by Phyllis Zeck
Allen Adezio is my 2nd cousin 1 time removed.  Allen's parents are Carmella Leone and Cesidio Adezio (aka D'Addezio).  Carmella's parents were Speranza (Mary) Ciolli and Joseph Leone.  Speranza was the sister of my great grandmother Elvira.
In January I received an email from Allen's wife, Marie, stating that her husband was a descendant of the Ciolli family.  She is also interested in genealogy so as you can imagine this was the beginning of many, many email exchanges.
Here is a photo of Lillian, Speranza Ciolli & her husband Joseph Leone, and Carmella.  Lillian and Carmella are their daughters.
sssssssss
The  photo below is of Carmella Leone and Cesidio Adezio on their wedding day June 20, 1923.  These are Allen's parents.
XX
XX
XXXXXXX
XX
XX
XX
This is a photo of Josephine, born in 1909 and Gladys born in 1914 (Speranza and Joseph's daughters).
XX
XX
XX
XXXXXXXXXXXX
Allen and Marie traveled to Pescasseroli Italy several years ago.  They found the Ciolli home which has now been remodeled into several apartments.  Here is a photo of the home.
Several people came out to the street and they all tried to communicate and ask about the house but the language barrier was too great, they couldn't understand each other.  A woman sent one of the young girls into the house and she came back with a large book.  The book was opened to a photo of a woman laid out for her wake.  We think this may be a photo of Filomena; Speranza and Elvira's mother.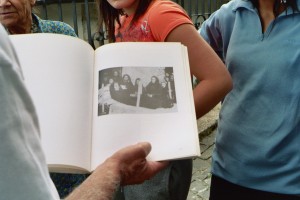 In the birth records of her children it is noted that Filomena Ursitti was a "property owner".  Her husband Amabile Ciolli was the town's Apothecary.  We had always heard that Elvira's parents were wealthy and important people.  Is this why the town published a photo of her in a book?  What is the name of the book?  Is the person in the book Filomena?
Marie has sent me charts with family names and dates that I will add to my Ancestry.com account.   Thank you to Marie for the wonderful photos, information, and stories.  I look forward to learning more about her travels and my Ciolli ancestors.