About Me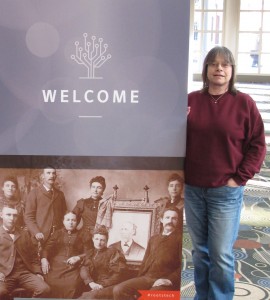 My mother was Corinne Del Principe Winike, her father was Gilberto Guy Del Principe.  My great grandparents were Pietro Del Principe and Elvira Ciolli.
I always had an interest in our family genealogy.  I am part of large Italian family; one of eight children.  My parents moved out of the Chicago suburbs in 1958 and had their dream home built.  My grandfather, who was by then a widower, moved in with us and lived in our home for the rest of his life.  In the mid 1960's my family converted the upstairs bedrooms into an apartment and my father's parents moved in upstairs.  How lucky were we kids, to have two grandfathers and one grandmother live with us? 
In 2000 my husband, daughter, sister and I spent two weeks in Italy.  It was my dream to visit the town that my ancestors were born in.  My mother thought our ancestors were from a town called L'Aquila so that is the town we toured on our vacation.  We climbed the hills and reveled in the beauty. 
We purchased souvenirs from L'Aquila and took hundreds of pictures.   At the end of the day my sister and I sat on a bench in the town square and talked of our ancestors walking across these same brick pathways to do their shopping.  What a sense of familiarity we felt sharing the same space, but different time, with our ancestors!   
In 2010 my husband and I took a trip to Utah stopping at Salt Lake City and we went into the Family History Library.  I spent a few hours researching and my head was swimming with ideas about creating a website and building a family tree.  When we returned home I signed up for an account at Ancestry.com.  I made my first entrees with my family names.  Soon I had little leaves shaking at me, enticing me to "click here".  
In the past two years I've met an astounding number of new family members that I didn't know I had!  I also discovered family members who live in Pescasseroli, Italy.  It turns out that my great grandparents were born in Pescasseroli, not in L'Aquila.  Darn, this could only mean one thing.  A return trip to Italy would have to be scheduled.
I appreciate everyone's help with information and photos.  I welcome any new documents, photos, and comments.   You can find me on Facebook by typing Phyllis Winike Zeck.  You can email me at travelingbears@comcast.net.
Phyllis Winike Zeck
Portland, Oregon