by Phyllis Zeck
A few months ago I was contacted by Maria who had stumbled across this website. I'd like to share some of the email she wrote to me along with some photographs she sent. Maria's parents are Inelde Vitale and Angelo Del Principe. Angelo emigrated in 1958 to Switzerland where Maria now lives. Inelde's parents are Marietta Saltarelli & Bartolomeo Vitale (a tailor).  Maria's great grandmother is Ester Ciolli. Ester and my great grandmother Elivra were sisters. 
I have never seen the photo above of my great grandmother Elvira. I don't know the woman next to Elvira. Elvira wrote on the back of the photo "This is Teresina the mother of Lucia." My grandfather Gilbert's handwriting looks like his mother Elvira's.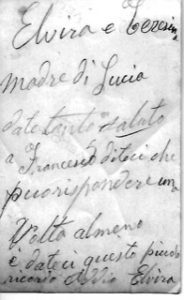 Maria Filomena was born in Pescasseroli in the 1950's and lived in her grandfather Bartolomeo's home until 1965. She has two brothers. Franco is a biologist and Claudio is a cook book author. The photo below is of Maria's grandmother Filomena, Filomena's sister Anna Maria, and their parents Nunzia and Gabriele Di Pirro. Filomena's brother Cesidio Di Pirro emigrated to Buffalo, New York.
The following paragraphs are some memories that Maria shared with me in an email.

My grandfather's home is just opposite Salvatore's B&B. this house used to belong to a single teacher, Miss Trella. both houses are located in the old part of pescasseroli near the church. you may find something in google view. grandfather's house belonged to the ciolli's and he bought the upper apartment. two rooms, screed, a vault with some chicken a goat and wood for heating, and a separate room in the stairwell. the lower apartment belonged to my grandmother's brother, he was the father of esterina and salvatore's grandfather. both families had at least seven children, but some of them died as a child. 
During the Second World War, German soldiers occupied this house, and when the Americans arrived, a bomb fell into a house 20m away. during this time they had little to eat and sometimes they had to ask the american garrisons for food.
When I lived in this house, I was the only child and it was a beautiful time even though we had nothing, no running water, no bathroom, no heating. my matrasse was filled with corn leaves, which were changed every year. the drinking water was brought home in this typical "conca" of copper by the women on their head. the hot water came from a tank in the wood stove. the bread was kneaded kilos by my grandmother in the house and baked in the nearby bakery. everything was transported on a wide wooden board on the head. We also had none of the laundry,
everything came in the washing pan with boiling water and was knocked and rinsed in the river. I had nailed shoes from our shoemaker, my mother and her sisters had only wooden treaders in summer and winter.
The room in the stairwell was inherited from an American woman, who then came to pescasseroli and was paid out by my grandfather. My mother does not know who she was. the room was later integrated into the upper apartment and now belongs to my cousin Paolo vitale.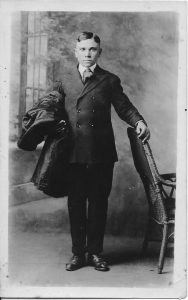 These photos were also sent to me from Maria. The photo to the left is Domenico Pandolfi taken approx. 1915. If you recognize anyone in the 3 photos below, please email me so I can add their name to their photo. There is a sadness that accompanies an photo without a name. It's so important to preserve and share these photos and stories.
I'm very grateful to Maria for sharing her memories and amazing photos. I have a clearer picture of what life was like in the 50's and 60's in Pescasseroli and it was not like the image that I had painted in my mind.