by Phyllis Zeck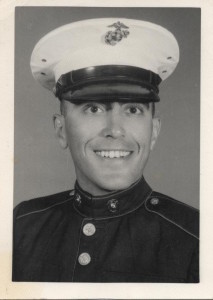 Allen Adezio's mother was Carmella Leone and his grandmother was Speranza Ciolli.  Allen's grandmother and my great grandmother Elvira were sisters. This makes Allen my 2nd cousin 1x removed.  Allen's wife is Marie.  Marie and I share a passion for genealogy as well as frustration that we never have enough time for research. The photo to the left is Allen, he was in the Marine Corp. Allen enlisted 16 Sep 1957 and was sent to Camp Pendleton in California where he attended boot camp from 01 Oct 1957 to 23 Dec 1957.  On 31 Mar 1958 he entered the 2nd Infantry Training Regiment and went into the reserves. 
Esperanza (Mary) Ciolli is my 2nd great aunt.  She was born 06 Feb 1877 in Pescasseroli, Italy and died 15 July 1940 in Chicago. Speranza and Joseph Leone (1875-1926) had the following daughters; Carmella (Allen's mother born in 1897), Lillian, Mary, Rose, Anne, Meri, Josephine, and Gladys. Ancestry records reflect that Carmella, Lillian, Mary, and Rose were born in Boston, Massachusetts.
Below is a photo of Rose, Carmella and their father Joseph. The photo is not dated. It was taken at a studio at 414 S. Halsted St. You can click on the photos to enlarge them.
The photo to the right is of Lillian, Esperanza & her husband Joseph, and Carmella. The photo is date 16 Jul 1913. Carmella is Allen's mother. These photos are wonderful, they really capture the clothing styles of their time. I love Carmella's hat. Rose has a beautiful bow in her hair and it looks like she's holding a purse. If you enlarge the photo of Joseph sitting down, you can see the intricate carpentry work that went into building his chair.
Below is a photo of Meri.  She is also Esperanza and Joseph's daughter. Meri and Sam Mazzie had two children, Richard and Kenneth (photo on the right). Thank you for sharing these wonderful photos Marie!