by Phyllis Zeck
In one of the interviews my brother Rob and I had with Auntie Phyllis in 2011, Auntie Phyllis talked about her grandmother Elvira's siblings. I was not aware that her sister Gemma Nicolina Ciolli Leone lived right across the street (didn't every family member live right across the street?), or that Gemma was Auntie's godmother.  Both mom and Auntie Phyllis were baptized at St. Callistus Church.
Click here to see a birth record for Gemma (item #62). In the audio clip below Auntie also discusses what life was like during the depression. The photo to the left is Elvira and her son, Antonio, is standing next to her.  I don't know the other two people in the photo.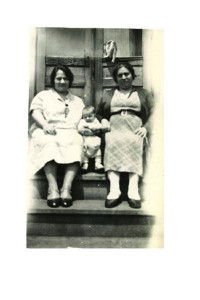 The photo to the right may be Elvira and Gemma.  If anyone recognizes these ladies, please email me and let me know. Gemma (1855-1952) married Giacomo Leone and they had 10 children; Esther, Carmen (Mimi), Phyllis (Fifi), Jeanette (Gerr), Christine, Anthony, Rocco, Joseph, Anne, and Josephine. Carmen and Phyllis were twins. I am in touch with Rocco's son, Giacomo. Giacomo emailed me and told me "Carmen and Phyllis were twins.  There were perhaps two other children who died from Tuberculous.  My parents were Rocco Mario Leone and Caroline Philomena Amici. My mother is a first cousin of Don and Jim Amici. Don was the more famous actor, his brother Jim was a local Chicago radio personality." As a young adult Giacomo visited the family's music store.
You can read about Gemma's brave journey from Pescasseroli, Italy at this blog post and see her 1901 immigration record. It appears that she traveled to America with no other family member in 1901 onboard the ship Patria.  
Click the audio link to below to hear Rob and I discuss Elvira's sisters and the depression with Auntie Phyllis. This is our 3rd audio clip from our 2011 interview Auntie Phyllis. For more articles about Gemma click on her name in the Categories column to the right.