by Phyllis Zeck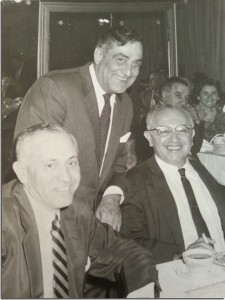 This photo was sent to me from Val, thank you so much for sharing.  Left is Robert R Ciolli 1911 – 1962.  Center is John Serritella (Val's godfather).  Right is Robert P. Amabile Ciolli 1910 – 2000.
Robert R.'s father was Enrico (Henry) Ciolli.  Robert P.'s father was Carmino (Charles) J. Ciolli.  Enrico and Carmino were the brothers of my great grandmother Elvira.  You can read more about the Charles Ciolli by clicking here and by clicking here.
Enrico (Henry) Ciolli was born 01 Jan 1876 in Italy. Henry married Carmela Petrella (1888-1954) and they had six children.  Frank (born in Italy), Phyllis, Mary, Robert R., Josephine (Gigi), and Nancy.
I can't find a record of his immigration but you can click here to read his Naturalization Record dated 13 Dec 1893. The record shows he was living at 165 Forquer St in Chicago.  That must have been a huge apartment, many Ciolli's lived at that residence!
The 1920 census lists the family's address at 1023 Peoria in Chicago and says Henry immigrated in 1895 however that doesn't match his Naturalization date.  It also lists his occupation as Plasterer and states he owns his home but has a mortgage.  His children are listed as Fred, Philamena, Mary, Abraham, Josephine, and Nancy.  This census taker has made several mistakes, in fact he spells the family's last name Ciole.
Henry passed away 15 Jun 1958 at the age of 82 and is buried at the Queen of Heaven Cemetery.  I think it's time for me to dig deeper into researching Enrico's family.  So many relatives, so little time!