by Phyllis Zeck
Below is a post that I published in Oct 2010.  I've updated information and added new photos. 
When my great grandfather Pietro Del Principe immigrated from Pescasseroli, Italy to Chicago he opened a music store (probably in the late 1890's).  The store may have been called the Oakley Music House, it was on the corner of Oakley and Harrison.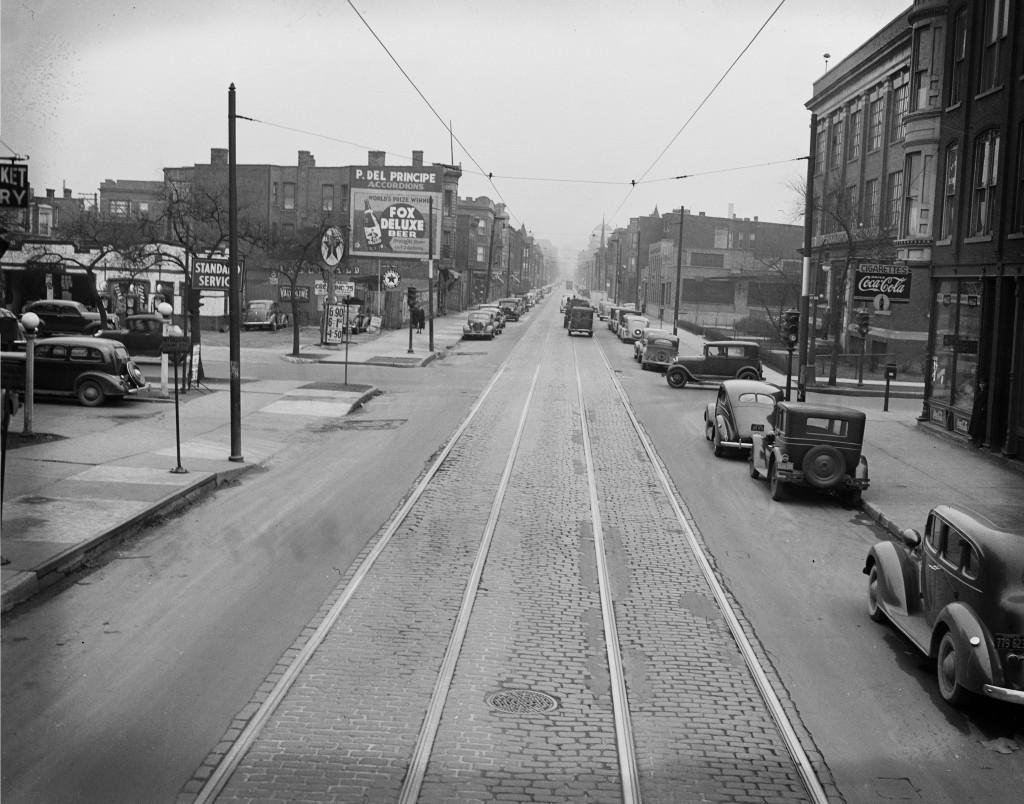 The photo above was sent to me by Todd who is working on a researching project of the area.  This is the intersection of Oakley and Harrison in approx 1930.  You can see my great grandfather's name at the top of the building on the left, next to the gas station.  Click on the photo to enlarge it.  This is a priceless photo and I want to thank Todd very much for sending it to me!
Eventually the store was named the Del Principe Accordion Company and was the Chicago agent for Dallape Accordions.  I recently spoke with one of the employees of the Italo-American Store in Chicago named Pompi.  He knew of the Del Principe brothers.  He repairs accordions for the Italo-American store but did not do repairs for us.  He did say that the brothers imported accordions from The Polverini Brothers in Italy.   There is a Polverini store in Chicago.  I spoke with the owner's daughter.  She said her uncle came to America to open a store but changed the store name from Polverini to Alywind Inc. 
The music store address was 2244 W Harrison St in Chicago.  The building had 3 floors.  In the 1920 census Pietro and Elvira were living at this address with Antonio, Hank, Otto, Paul, Gilbert, Frank, Emil, along with 2 daughters-in-law Margaret and Rose.  Also living here were grandchildren Bernie, Anne, Willie, and Eleanor.  Wow, can you imagine the happy noise in that structure!?
In the 1930 census Elvria was living in the home with Hank and Paul.  The apartment on the third floor was split into two apartments.  My grandfather Gilbert, his wife Bertha, and my aunt Phyllis are listed in the upstairs apartment and Antonio, Margaret, Elvira, and Eileen are listed in the other upstairs apartment.  The apartments were shuffled between one or another brother and his family for many, many years.  Uncle Paul and Uncle Otto lived around the corner with their families at 516 Bell Ave.  The apartment building is gone now, the land is part of the University of Illinois campus.
Frank, Otto, John, Joe, and Tony all partnered in running the stores in Chicago.  Other addresses I have for the stores are: 29 S. Cicero Ave, 307 S. Wabash Ave, and 5600 W. North Ave.  Joe's store address was 5220-5222 W. North Ave.
Eventually one store was passed from Otto to his sons Phil and Pete to run.   Phil's business card lists the store as Del Principe Accordion
Co. (312) 656-2848 at 6129 W. Cermak
Road in Cicero.
The store was sold when the brothers passed away.  I want to thank Otto's daughter Susan for many of the photographs and for information about the stores.
My brother Tom recalls, "Uncle Paul and Aunt Mary had an older daughter, Dorothy. She passed away in childhood, and a few years later they moved to a small house in a quiet neighborhood. Uncle Hank rented out the upstairs apartment. The house on Bell Ave had a basement, so it seemed smaller than the huge store on Harrison. Both houses had beautiful woodworking, with elaborate sash windows, and carved oak mantles. Bell Ave had a back yard enclosed by tall fences, and an attached garage. The Harrison St house was more like a commercial bldg., surrounded by alleys and parking lots. We used to love riding in Grandpa Gilberts station wagon, to look at the tall buildings. There was a giant ice-cream place, where all the musical trucks would spread out across the city every afternoon."
Last week my brother Tony drove downtown to run an errand and offered to drive by the block of Harrison where the apartments used to be and take a photograph for me.  The photo below is of Tony at the University of Illinois at Chicago at 2242 W Harrison.  Thank you for the photos Tony.
Now I'm on a mission to find a photo of the front of three story building at 2244 W Harrison.  As you know, when I'm on a mission I am relentless.  If anyone has any photos will you please email it to me or mail me a copy?  I will be forever in your debt!