by Phyllis Zeck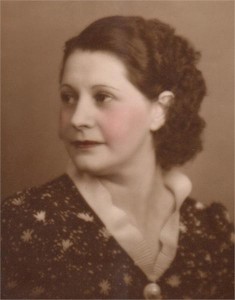 Edith Veronica Vitullo Del Principe was born in 1909. Her photo appears on the left.  I just love this photo of her. Edith married the youngest brother of the family, Francesco and they had two children.  Muriel was born in 1932 and Frank Jr (Luke) was born in 1933.  Today Muriel operates restaurants in the Chicago area with her children and Luke operates restaurants in Arizona with his children.  For more blog posts about Francesco's family click on his name in the categories box in the right column of this website.  To view photos of Frank's family click on this link to their photo gallery.  
Below is an invitation that Bear (Antonio's granddaughter) emailed to me.  This invitation was sent to Bear's great grandmother Margaret inviting her to attend a baby shower for Edith.  Edith was pregnant with Muriel who was due to arrive in June.  
| | |
| --- | --- |
| | |
|                                                                                           | |
The shower was held at 2102 W Harrison Street.  I don't recongnise that address.  I wondered if possibly Edith lived there and the shower was to be in her home.  I logged into my Ancestry.com account to look at their address but I didn't have a census record saved for Frank and Edith.  I had noticed on the invitation that the guest of honor was Edith Prince.  We know that Antonio shortened his name from Del Principe to Prince. In 2018 I discovered a draft registration card for Guiseppe dated June 5,1917 in which Joe had shortened his last name to Prince.  I did not know that Frank and Edith shortened their last names as well.  I searched for a census record for Frank and Edith with the last of Prince and located them in the 1930 census.  They were living at 1238 W. Ohio St, about 3 miles from the music store.  So perhaps the shower was held at a coffee shop down the street from the music store.
It's odd that I never thought much about our ancestors having baby shower's for each other at the turn of the century.  I suspect the showers were for women only and maybe held for the birth of the mother's first child only.  I don't remember my mother ever go to a friend or relative's baby shower but we moved out of the city in 1958 and I don't believe mom went downtown very often.  What a fun find this was for Bear!  I appreciate that the invitation and the envelope were kept in great condition after all these years. Thank you Bear for sharing.