by Phyllis Zeck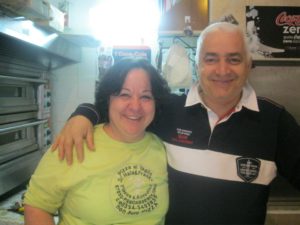 The last 7 years of genealogy research have bought so many wonderful new relatives and friends into my life. Thanks to email, the internet and facebook I've been able to deepen these friendships and I  hope that one day I will meet these wonderful people in person. This year  Francesco Gentile was kind enough to send me some amazing images and a genealogy pedigree PDF chart that I want to share with family today.
Francesco and his wife Hala live in Pescasseroli Italy, the birth place of many of my ancestors. Hala and Francesco own a restaurant called Non Solo Pizza. The photo above was taken of Francesco and Hala by my cousin Joe Del Principe when Joe and his wife visited Italy in 2011. I have a few ancestors with the last name of Gentile in my family tree and although we are related, I have not yet found my genetic connection to Francesco. Antonio Gentile born in 1753 is my 4th great grandfather and his daughter Maria Domenica Gentile born in 1780 is my 3rd great grandmother.
The jpg images below are official birth records from our family church in Pescasseroli. I was thrilled to find among them for the first time a record of my maternal great grandmother Elvira!  Perhaps the reason that I have not been able to find the record in the past is that her full given name was Cesidia Elvira Tranquilla Ciolli which I did not know until Francesco generously supplied the record. 
I have tried to piece together the full given names and correct birth year for the children of Filomena Ursitti and Don Pietrantonio Amabile Ciolli (my great great grandparents) and have listed them below.  If you are researching your family trees I hope these records will clarify names and birth years.  Please email me if your records do not agree with the labels I've given to the images below.
Click below to download a file of my genealogy research from Ancestry.com of Filomena Ursitti's descendants.
Descendants of Filomena Ursitti Dec 17, 2017
Click below to download a pdf file of Francesco's family tree. There is a treasure trove of information in this document.  You'll have to put on your detective hat and use google translator to figure out the clues if you don't speak Italian though.  For starters, it looks like Pietrantonio Amabile born in 1830 had a brother named Belissario Fedele born in 1834 (see page 10). 
Francesco Gentile Ciolli Family Tree
Below are Francesco's digital records of what I decipher names and birth years for Filomena and Pietrantonio Amabile's children to be.  Click once on the image to view it, then click on it again to enlarge it.  Thank you so much Francesco for these priceless family records!