by Phyllis Zeck
Last month Lisa & Mark visited Europe and one of their stops was Pescasseroli.  Lisa's great grandparents were Pietro Del Principe and Elvira Ciolli.  Pietro and Elvira's youngest son was Frank.  Frank's son is Frank Jr. (Luke) and Lisa is Luke's daughter. Whew, kind of confusing isn't it?!  Lisa and Mark live in Arizona  and they have been looking forward to this trip to Europe since last fall.  Lisa's email to me said "The trip was great, we had a blast.  Pescasseroli was one of the highlights of the trip.  The drive from Rome to Pescasseroli was very picturesque.  The town is quite a bit bigger than I thought it would be."
Lisa and Mark stayed at Salvatore Toscano's Bed and Breakfast – Via Della Piazza. Salvatore's great, great grandmother Ester and my great grandmother Elvira were sisters.  They also met Salvatore's mother, Ester Saltarelli.    Then they visited with Giovanni Del Principe.  I am very jealous!  They have graciously agreed to let me post some of their photos in my blog, thank you Lisa & Mark.
Pescasseroli is a town in the province of L'Aquila in southern Abruzzo.   A summer and winter resort, it is the headquarters of the Abruzzo National Park.   The monument below (I believe it is a WWII monument) was funded mostly by money sent from America. Click on any of the photos below to enlarge them, click on the back button to return to the blog.
xxxxxxxx
xxxxxxxxxxxxxxxxxxxxxxxxx
Next are photos from our family church in Pescasseroli.  Chiesa Dei Ss. Apostoli Pietro E Paolo was founded in 1100.  Below is a link to a very interesting article about a Church in Buffalo, New York and a statue of the Madonna that was brought to Buffalo by Gaetano Del Principe.  I don't believe I am directly related to this Gaetano Del Prinicipe, his family appears to have settled in New York in the early 1900's.
"The statue of the Madonna is a copy of the one in Pescasseroli, Italy and was brought here from Italy by the efforts of Mr. Gaetano Del Principe. It was beautifully adorned with a hand embroidered white dress and blue mantle that was made by several members of the Society." xx http://www.stlawrencebuffalo.org/devotion.shtml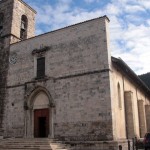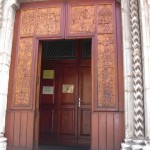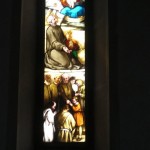 Below are photos of Salvatore taking Lisa and Mark to the Ciolli home, the arch leading to the home, and snapshots of the area around the home.  Although the home no longer is owned by Salvatore's family, they still own the storage area below the home which is just inside the Arco Ciolli.
Below are photos of Salvatore Toscano's Via Della Piazza Bed & Breakfast.  This is a link to his website http://www.viadellapiazza.it/
xxx
xxxxxxxxx
xx
While in Pescasseroli Lisa and Mark checked into "The Book" that was mentioned in my previous post (March 12, 2011).  The book appears to have been published by the community and it is about the people and landmarks in Pescasseroli.  Salvatore checked with his mother as to the name of the woman at the wake and she believes the woman is Filomena Ursitti (my great great grandmother).  The last photo is the remains of a castle which was destroyed by an earthquake.
Below are photos of Chiesa Del Carmelo