by Phyllis Zeck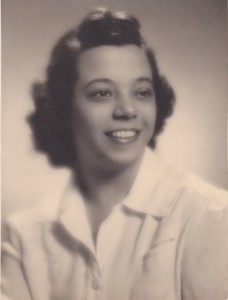 My mother-in-law was born in 23 Apr 1920 in Chicago, Illinois, she passed away 21 Jun 2007 in Vancouver, WA.  Yvonne had no siblings. She received her Bachelor of Arts degree from the University of Illinois and worked for a brief time as a social worker.  Yvonne married Francis H. C. Zeck on 20 Jan 1943 at the age of 22.  Her first son Francis Harry was born nine months later, and her second son Donald Arthur (my husband) was born in 1946.  Yvonne traveled the world with her husband Harry (see post about Francis H. C. Zeck) and was a loving and supportive military wife. Yvonne's father was Arthur Harold Porche born 10 Feb 1895 in New Orleans, Louisiana.  Arthur's WW II draft card lists his address at 424 W. 60th Place in Chicago.  His employer was Illinois Iron and Bolt, his job title was a Division Sales Manager, and his work address was 918 S. Michigan Ave.  Arthur was killed in January 1947 in a small engine airplane crash.
The following is taken from an article in the Stars and Stripes newspaper; "Private Plane Explodes in Indiana, Killing 5.  Rensselaer Indiana Jan 26 1947 (his wife Alma's birthday).  The pilot and four passengers were killed last night in the explosion and crash of a twin-engined Beechcraft private plane in a barnyard six miles southeast of Rensselaer."  Arthur's father was named J. George Porche born in 1856 in Louisiana and his mother was Amelia Tervalon born approx 1856.  Arthur had 6 siblings Edna, May, George, Stanley, Mildred, and Clifford.  Click here to read an article about the crash from The Arlington Heights Herald 31 Jan 1947. Arthur enlisted in the U.S. Marine Corp on 03 Jun 1917.  Frank remembers his mother telling him that "Arthur was sent to France where he met with family members and served as an interpreter for the US Forces, and that he was wounded in the Battle of Belleau Wood".  The muster roll from Sept 1918 listed Arthur #122479 Porche "trans. to S.O.S. Hospital".  Click here to read the Muster Roll.  Most of the men listed with him on the muster roll have the following remarks "slightly wounded in action during attack on Hill 160.600 yds NW of Tigny Prov of the Aisne, France".
The Battle of Belleau Wood was the first real taste of battle for the US Marines in WWI with General Pershing calling Belleau Wood the most important battle fought by US forces since the US Civil War.  Click here to read more about the Battle of Belleau Wood 1918. Yvonne's mother was Alma Pauline Harrison born 26 Jan 1895 in New Orleans, Louisiana. Alma died in 1987 at the age of 92.  Alma had two sisters Violet and Beulah and she had a brother named Homer.   In 2011 email correspondence began
between Shirley and I.  Shirley is the granddaughter of Beulah.  Alma (Don's grandmother) and Beulah are sisters.  Alma and Beulah's parents were Pauline Barbara Baumann and Harry Hill Harrison.  Shirley has an extensive family tree account at Ancestry.com and she invited me to look at her tree, documents, and photos.  She has graciously agreed to share some of her research in this blog post.  I want to extend to her my sincere appreciation. Alma and Beulah's grandparents were Matilda Johnson (1852-1922) and James Connor Baumann (1848-1928).  James Baumann was born on  27 Apr 1848 on the Atlantic Ocean aboard the ship the "James Corner".  Thus he was given the name James Connor.  His parents Samuel Baumann and Maria Barbara Peterhans were immigrating from Stilli, Switzerland to New Orleans, Louisiana arriving 18 May 1848.  Samuel left behind his parents, three brothers and two sisters.  James was 3 weeks old when the ship docked.
James and Matilda married in 1868 and they had 10 children.  On 30 Jan 1870 James was appointed a Kennerville school director. The town of Kenner is 13 miles west of New Orleans.  My husband and I stopped in New Orleans during our honeymoon.  If only we'd known how close we were to Zeck ancestors we would definitely have detoured to Kenner!  In1880 James Baumann was elected Mayor of Kenner running for the Republican party.  The 1887 city directory lists James as a clerk for the 26th Judicial Court for Kennerville.  In 1891 he was an assistant foreman at the U.S. Mint.  Then on 40 Dec 1891 James was shot at and decided to leave Kenner.  Click here to read the newspaper clipping about the mysterious assault. He moved his family to 720 Lyon St in New Orleans. On 26 Sep 1892 the New York Times printed an article that James was "arrested and charged with being an accessory to the attempted assassination of Judge Long in Gretna in July.  He was taken to Gretna by Sheriff Landridge of Jefferson Parish and locked up.  Baumann's arrest grows out of the confession of Dennis Richards, a negro who was arrested last Friday in swamp near Boutte.  Richards admits that he fired the shots which wounded Judge Long, but further says that Baumann offered him $100 to kill Long.
He also says that he was in communication with Baumann after the shooting, and that Baumann promised to send him money and use his influence to get him out of the trouble."   Click here to read the full article.  A second article describes the evidence in more detail, click here to read the article.  James was eventually acquitted and went on to become a real estate agent. Click here to read the article from the Times-Picayune dated 26 Jan 1893 which states there was not enough evidence to hold and charge him.  From 1900-1915 James was appointed a U.S. Shipping Commissioner at the U.S. Custom House.  A 1902 newspaper article details the damage done by a lightening strike at the Baumann home.  Click here to read the article. James passed away in 1928 at the age of 79 in Los Angeles which is where he is buried.  You can see that newspapers play a huge roll in a genealogists quest to know their ancestors. I wonder if my mother-in-law knew that her great grandfather led such an interesting life.  In some journal notes left to us Yvonne wrote "Alma's grandfather James came to visit us in Chicago.  Oh, how impressed I was with his tall slim stature, thatch of pure white hair and the fact he was born on the Atlantic coming from Germany.  Alma seems to have been in awe of these grandparents who gave Alma her first pick of the fruit from their own trees." Yvonne wrote "Alma's father used to tell funny, outrageous tales.  He used to hide lemon drops in his pocket and permit me to search for them."
Yvonne had a insatiable appetite for books and the arts.  She loved letter writing and appreciated rich textured stationary. Mimi, as she was known after her first grandchild was born, was a talented painter.  She collected small charms from all over the world and always dressed in coordinating colors.  She must have had two dozen different colored Keds tennis shoes so that all of her outfits
matched.  Mimi worked with miniatures and made a Christmas tree with miniature ornaments and gifts.  I put it on our table every year.  Mimi and Gramps loved to travel in their 40 foot Beaver motor coach.  Of all her passions I believe Mimi loved her family the most.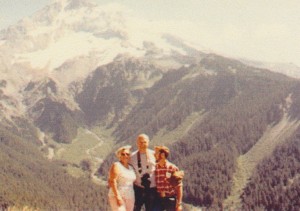 Don remembers "I loved going to visit Mom.  Her smile would melt the snow on Mt Hood.  Mom always made me feel like a success.  She had to have everything in perfect order.  We'd go to her house for Sunday dinner and I would rearrange the order of the towels in the bathroom.  It drove her crazy!  Mimi kept in contact with her many life long friends over the years showing she appreciated the value of an old friend." "I remember how Mom broke out in tears as we finished a hike on Mt. Hood." Don continued.  "I showed her my secret valley and panoramic view.  Later she asked that her ashes be taken to that spot because it was so special."   And that is exactly what Don and I did.