by Phyllis Zeck
Abigail Rose was born on March 7th.  It seemed like my daughter Ashley took her sweet time being pregnant!  We were all so anxious to meet this baby.  Abby was named after Matt's grandmother Rose.  Ashley and Matt chose to be surprised and not learn the gender of the baby until her arrival.  Now we can stock up on pink and purple clothes.  
We've been busy getting ready for baby's arrival.  I described in Baby Miller Surname Family Tree blog post the genealogy album I made for Abigail.  Don built Abby a co-sleeper.  Ashley and Matt decorated the nursery.  Matt's father Walt sanded and stained an old dresser that used to belong to Ashley.
Matt's mother Shirley sewed Abby her Love Blanket.  The blanket is made from the clothing of Abby's ancestors.  The squares labeled #1 (Oregon State University) is the college that Matt and Alicia (Matt's sister) graduated from. The material is from a shirt that belonged to Alicia. The checked squares labeled #2 are from the shirt that Matt wore to his wedding rehearsal dinner. The squares labeled #3 are pieces from the dress that Ashley wore to her wedding rehearsal dinner.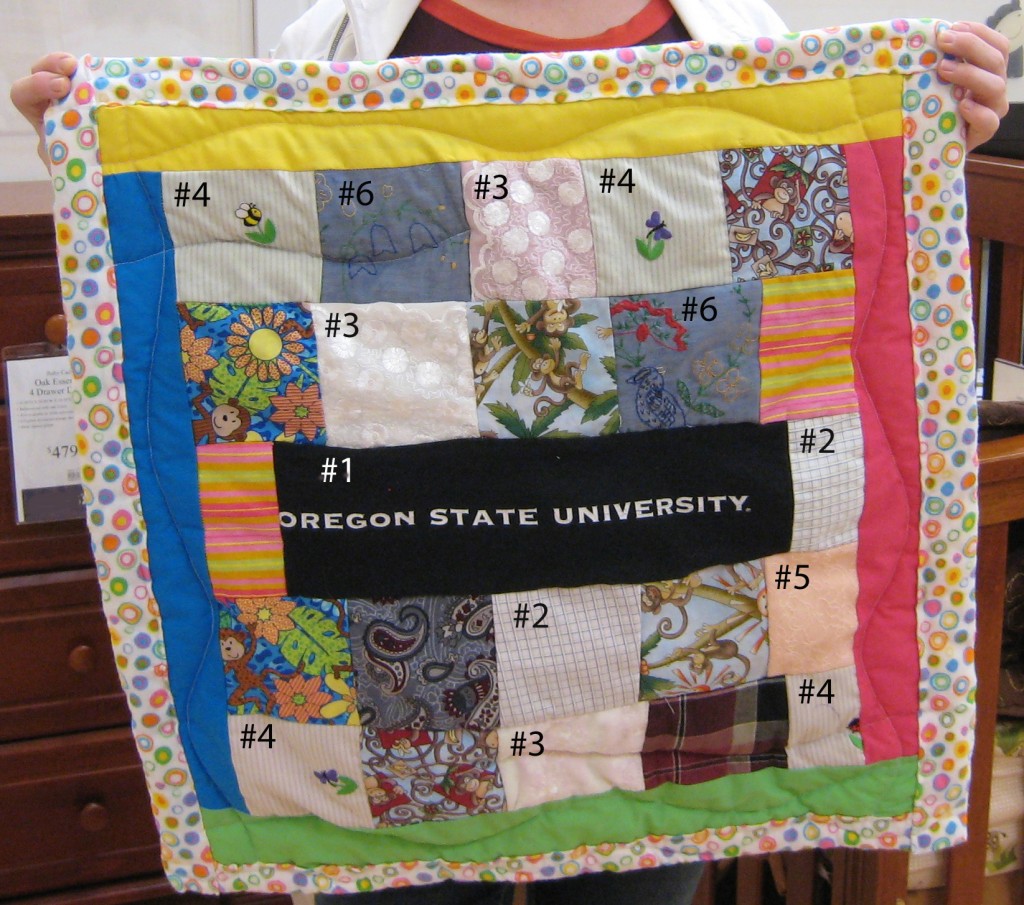 The squares labeled #4 are of embroidered flowers and lady bugs from a blouse that belonged to my mother.  The peach lace square #5 is from my wedding dress.  
The squares labeled #6 are from a blue denim work shirt that belonged to Don that I had embroidered.  Don and I met in 1975 and it was popular to embroider designs on shirts and purses.  
The rest of the squares are pieces from Matt's ancestors.  I will add specific details when I get them.  Matt's parents will be here soon to visit little Abby and Shirley will tell us more about the pieces when she arrives. Some of Matt's ancestors traveled to Oregon on the Oregon Trail.  I wonder if Matt and Shirley have any family stories they can share with Abigail about adventures on the Oregon Trail.
Shirley's gift is such a treasure.  Every quilt tells a story.  This quilt is the story of Abby's ancestors.