by Phyllis Zeck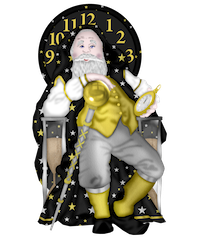 I'm afraid I've been away from my genealogy fixation far too long. I've been teaching myself how to use Photoshop Elements and had a blast building my 2013 digital scrapbook.  Now that the holidays are over I'm itching to get back to my research. 
2013 has brought some devastating losses to my life.  My wonderful brother in law Paul and my beloved Aunt Phyllis both passed away in the fall.   I treasure my memories of Paul who had a kind word for everyone he met and I will miss the sweet ways my Auntie touched my heart.
I've also experienced many blessed events in 2013.  The birth of my granddaughter Abigail Rose and her baptism, my son Don Jr's marriage to Kelly and my nephew Robin's marriage to Karli.  Our family tree continues to grow and we welcome Kelly and Karli's families into our fold.  
I have received email from new members of our family who have stumbled upon my genealogy website.  I hope to share photos and stories from them soon in my blog posts.  I am still in awe that the internet is able to help connect us all together.  I also have new research documentation to share with you thanks to Kathy from GenTracer. 

My goal for 2014 is to attend a genealogy conference.  I have toyed with going to a conference for several years and have researched many different venues. My top choices are RootsTech which is held in Salt Lake City and The National Genealogical Society Conference which this year takes place in Richmond, Virginia.  The techie in me is leaning towards RootsTech.  Wishing you all a happy and healthy new year!