by Phyllis Zeck
This wonderful photo of Bernie (Skip) Del Principe Jr (1931-1988) was sent to me by his daughter Sandy.  It was taken on Dekalb St.  The 1940 census lists Bernie Sr and Florence's address as 2031 Dekalb St. They were renting their home.  Bernie's occupation was a "packer" for a department store and his income for the year was $1,040.00.  
Sandy's great grandfather Amelio (Emil) and my grandfather Gilbert were brothers. Below is the birth record for Bernard Sr. Click to enlarge.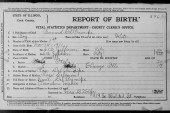 He was the first child born to Emil and Rose (age 17) at their home at 612 Jefferson St in Chicago on 14 Nov 1911. Emil's occupation is Accordion Maker.  Rose and Emil had four more children; Anne born in 1914, Nora born in 1915, William born in 1917, and Eleanore born in 1920.
Bernard married Florence and they had four children; Bernard Jr (Skip), Rosemary, Patricia, and William.  Skip was was a police officer for the city of Chicago.  Click here for an obituary for Skip's father Bernard Sr Obituary 1984 and for his mother Rose Solomon Rose 1957 Obituary.  You can read more posts about Emil and Rose's family by scrolling the right side of any page to the "categories" section and click on Amelio's name.
The photos below are of a watch given to Skip by his grandmother Rose.  I'll add them to our family heirloom page.  The inscription reads "Rose to Emil 1938".  Click to enlarge.  Thank you so much for sharing these photos Sandy.