by Phyllis Zeck
Christmas is always big at our house,because my parents suffered through Christmases with very little to spare during the Great Depression. Now they are effusive and generous to us kids, as no one in their generation, or even in their parents' generation could have afforded to be. My grandfather tells us of many Christmases where he only received a stocking with a few candies and an orange, the only orange he would get to eat all year. One year, he says, his brothers were so wicked everyone in the family
got a lump of coal in their stocking. That was the second worst Christmas of his life. The worst we find out about later, when we're older.
But Christmas in the Fifties, oh boy! Mama takes us on the "El" to Michigan Avenue, to see all the storefront windows brilliant with garish colors and sparkling shapes. Mechanical fairytale figures dance, skate, and twirl before our eyes, each window a different scene.
I am dreaming of Lionel trains after seeing the elaborate layout my cousin Bubba has. I ask my father if Santa will bring me a train set. He says, "You have to ask Santa that yourself."  But I see the gleam in his eye; turns out he loves Lionels as much as I.
Mama takes us to Marshall Field's to talk to Santa. This is the biggest interview of my life so far. I worry about this for a month. I practice my answer. Sister Mary Katherine coaches me. "He will ask you if you have been a good boy," she says. "Who else asks you that?" She never misses a chance to teach me a lesson about Catholicism.  "Father Storm, when I make my first confession," I reply dutifully, already hearing a little robot voice coming up from somewhere deep in me.  "Right! And what will you say, Bobby? Tell the truth."  "I will say, yes, I listen to my lessons, and try hard to obey my parents."
Sister is the most important figure in my life besides my parents. I want to get her a really great Christmas present. When we go to Marshall Field's I see a statue of the risen Christ, holding his heart in his hands. The heart lights up in fiery red when you flick a switch. I can't imagine a more beautiful gift for Sister.
I ask my parents if I can borrow against my allowance to buy it for Sister. Finally they agree, and I am indebted to them until the age of twelve, at the least. I carefully wrap the gift myself, and then place it under my bed. At night it speaks to me, hums at me from under the bed. I fantasize about Sister praying my statue of Jesus. That's not his heart he's holding out, it's mine.  I can't imagine anyone in the class giving her a better gift.
Finally the last day of school comes, and we exchange holiday greetings. Sister has a pile of gifts on her desk, including mine. I sweat with anticipation.
She opens the first package, it is huge. What could be so large? It's a frozen turkey, from Ronny, whose father is a butcher. Next, a velvet-covered Jerusalem Bible, with tabs showing where each book starts. I start to get nervous, these are very nice gifts. Another gift, leather bound blank journal. Another, "Gift of a Soul," the story of St. Therese, the Little Flower. Another, an ivory rosary, blessed by the Holy Father.
I start to squirm. What if she plugs it in, and the heart of Jesus turns bright red, and everyone laughs! Oh God, don't let her plug it in! I look frantically at the wall behind her. Good, no outlet. She can't plug it in if she wants to. How could I have thought she would like my gift? It's going to be a gift not wanted.
Finally, she opens my present. She looks at it curiously. I hate that, what does that mean, that wrinkle in her mouth? Then, oh sweet Jesus, no! She walks back towards the cloakroom where there is an outlet. She's going to plug it in, damn it! I gulp and close my eyes. She plugs in the icon, and flicks the switch. It's the loudest switch in the universe. Then, I hear a collective "Ahhh…" and I open my eyes.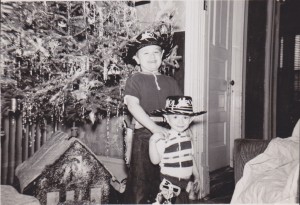 My heart soars. She is smiling at me, in her radiant beauty. I want to be a nun when I grow up, just like her. She will explain to me about that later, who gets to be a nun and who doesn't. But for now, and for this whole Christmas break, I am gloriously happy and rewarded for my devotion to Sister Mary Katherine.
The old Italians talk about Christmas in "the old country." That's what they called it, "the old country," like it was some sacred place, and the zampognari – bagpipe players who would come along the road and stop in front of each house and sing. They came at Christmas time to wish a Merry Christmas to the people in all the villages of the area. They played the bagpipe in front of every house and people could offer something to them – when they could, their warm drinks and some good company, and maybe some money. Might be they were organized as a group, and the whole group would go from one village to another.
These were pitifully poor people, doing what they could to earn money at Christmas time. Grandpa told us about one guy, had a birdcage with a parrot, and about another man who had an organetto,
a kind of little accordion that he played while he sang. He kept papers near him, folded up prayers that people in the village had for the future, had given him for hope. People then were worried about the future, very worried. They would shout, la fortuna del pappagallo, the fortune foretold by the parrot. Superstitious as they were, they would believe in anything that might work.
The bagpiper players were very poor and needy people, but they
made enough money to keep the tradition alive. People in the old country believed in superstitions because they didn't know what else to do. My Great-Auntie would tell us, "Oh, kids! It was so beautiful! The whole family would be inside the house at night time, cooking or just talking and then suddenly you could hear the sound of the zampogna. IT WAS CHRISTMAS TIME! Everyone in the house would run outside to listen to the zampognaro's music."
The older generation would tell us that the zampognari were poor shepherds from Abruzzi and herding the sheep from the mountains to the plains of Puglia, mostly to the sector of Apricena. Most of the shepherds used to drive the sheep to Puglia around the month of November. But December was quite cold in Puglia, too. The sheep had to be kept inside at that time of the year, so  the shepherds used to organize themselves in teams and go from one village to another to play the zampogna for Christmas. People gave them money, but food too, for example flour, grain, dried fruit, bread, taralli, or olive oil. Food was the only thing that poorer people had to give the zampognari, sometimes only two slices of bread. The shepherds were simple people living all the time with their sheep and four or five dogs. They were gente con poca cultura, pecorari, gentilissimi, troppo gentili ("people of little education, shepherds — i.e. herders of sheep, pecorai — with the kindest of hearts, only too kind"). They were people who lived outdoors, the shepherd's way of life being passed from father to son. They were a Christmas "image" in the way that the Christmas tree and Advent Calendars are Christmas images for us today.
Christmas at our house is time to eat. No one makes a better Christmas meal than the Italians. But even my Grandma Rachor, who is German, brings out a fest. Nobody can cook a turkey or ham like this woman. I bask in the glory of wonderful cooks who bring out a feast that can only be treasured in memories.
The most traditional Christmas food of Abruzzi is taralli — small biscuits, made from dough that is shaped into rings and then boiled in water before baking.
There is no leaven in the dough, but there is olive oil; boiling this dough has the effect of leavening. The biscuits are not always crisp. They are shiny, yellow and slightly brown, about two and a half inches across and about 1/2 inch thick, but come out in many sizes and shapes. Grandpa would say, "This recipe will make enough taralli to fill a Panettone box." The custom of a Panettone box comes from Tuscany.
There is no Christmas dinner in an Italian household that does not consist of many main courses. Prosecco, pasta and panettone are sublime. The tradition of feasting at this time of year can be traced back to the Saturnalia, where the ancient Romans celebrated the dedication of the temple of Saturn, began on 17th December and lasted until the 23rd. It was an excuse for feasting and drinking, often to excess. There was no excuse for not feasting and drinking in our house. Everyone brings multiple dishes. They all begin with a selection of antipasti – perhaps including salami and Parma ham, and a glass or two of sparkling prosecco. Then there will be another hearty filled pasta dish, such as agnolotti, ravioli or tortellini.
My grandmother loved to follow this with a roast – often poultry, stuffed with veggies and potatoes; some brought special dishes such as a stuffed pig's trotter. About the only desert I remember was panettone – a light but buttery sponge cake. Sometimes it would be heavy with pine nuts. I clearly remember elaborate spreads of cold shellfish cocktails and hot fish dishes, as well as the roasted peppers and antipasti. The women would start cooking the sausage for Christmas Dinner at 6 AM, and often the eating would go on until the late/early morning hours.  Why would we prepare 7 types of fish? Grandpa said it was because it took God 7 days to create the universe.
For starters we'd have cheese, crackers and antipasto with marinated artichoke hearts, pepperoni, salami, olives, sweet roasted peppers, mini mozzarella balls, which the Italians called Boccaccio. Then came maybe crab legs removed from the shell and jumbo shrimp; next came the pickled peppers stuffed with bread crumbs and olives; flounder stuffed with spinach, sundried tomatoes, and mozzarella cheese. Italians love baccala, which is cold seafood salad similar to cod mixed with green and black olives. Sometimes we'd have lobster ravioli in vodka sauce, and linguini in red sauce and shrimp scampi in butter sauce over linguini. Imagine stuffed calamari! We'd wait with baited breath for delicious desserts like cheesecake, peanut butter silk cake in Oreo cookie crust, and always, always canoli!
Then a huge rift of  cookies, and yes, chocolates. Rich chocolates, so rich the old ones would joke about how the chance of a heart attack after Christmas increased threefold!  Sweet and savory, a Rooster truffle, a mélange of Taleggio cheese, organic walnuts and Tahitian vanilla beans draped in bittersweet dark chocolate. A little salty. But so rich in my mouth, that deep, deep rich feeling in mouthiness with an undercurrent of sweetness. This was the promise of something great!
Drinking and dining was the main activity at Christmas time. My job was to keep everyone filled and joyous.   I pull the garish green and chrome kitchen chair to the stove where my mother keeps a bottomless pot of spaghetti sauce simmering. Chunking off a hunk of Italian bread and fishing it between the mystery meats that float belly up in the sauce, I carry it into the dining room, holding my hand under it to catch the drips.
At our house the strictest rule ever was to never, under any circumstances, talk back to your parents.  And no one in the family talks back to my grandfather.  Ever.  He is the King James of our family. He is everything I ever want to be. That great Italian, Gilberto Guy Del Principe, still lives with me and our connection is registered, literally, by the hour and minute. Just inside the front hall in our house stands a grandfather clock he made for me, for my wedding present.  It hasn't missed a second of time in the past 40 years. Every night I pull the chain to wind it; the door still closes with a soft click. "Good night, Grandpa," I say. From somewhere I hear a voice, maybe from watching too many episodes of the TV series "The Waltons," but from somewhere I hear, "Good night, Bobby Boy."