by Phyllis Zeck
Two weeks ago I received my Ancestry.com DNA results and the breakdown really surprised me.  Click on the photos below to see a larger view of the images.  My approximate lineage is: Scandinavia 33%, Italy/Greece 25% (no surprise here), Great Britain 18%, Iberian Peninsula 9%, Ireland 5%, and West Asia 9%. I am stumped by these results.  If any of my cousins out there know something about my Scandinavian ancestors please send me an email ASAP.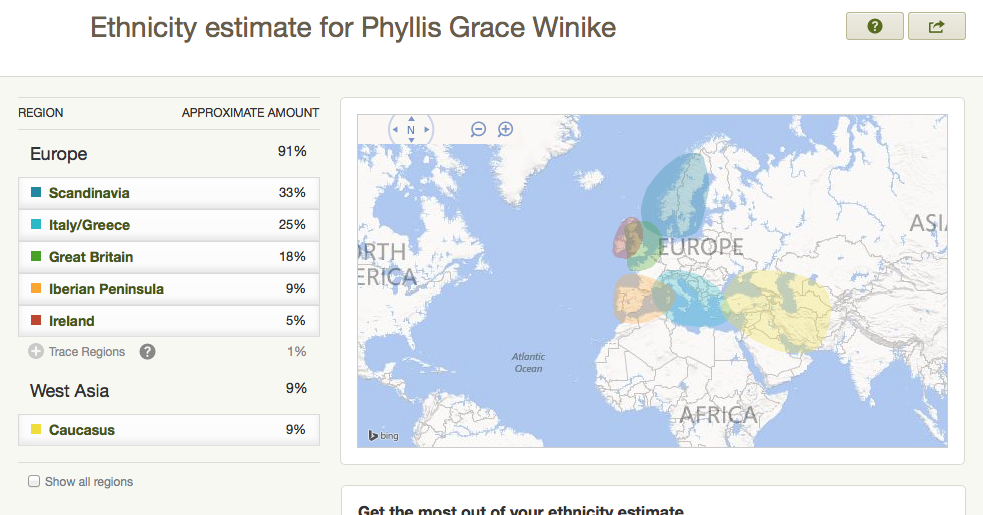 My Great Britain DNA extends to Germany.  My mother's mother Bertha Marie Christina Reher was born in Hamburg, Germany in 1901.  I believe Bertha's parents Caroline and August were also born in Germany.  
When I expand on each region I get a closer look at the countries of my ethnicity.  Scandinavia includes mostly Denmark, Norway and Sweden. Hamburg is a 3 1/2 hour drive from Denmark.  Perhaps Bertha's grandparents were born in Scandinavia. 
The Iberian Peninsula region is mostly Spain and southern France.  West Asia includes Turkey, Iraq, and Iran.   Below is a detailed photo of my Italian ethnicity and how my DNA compares to a typical person native to the Italy/Greece region.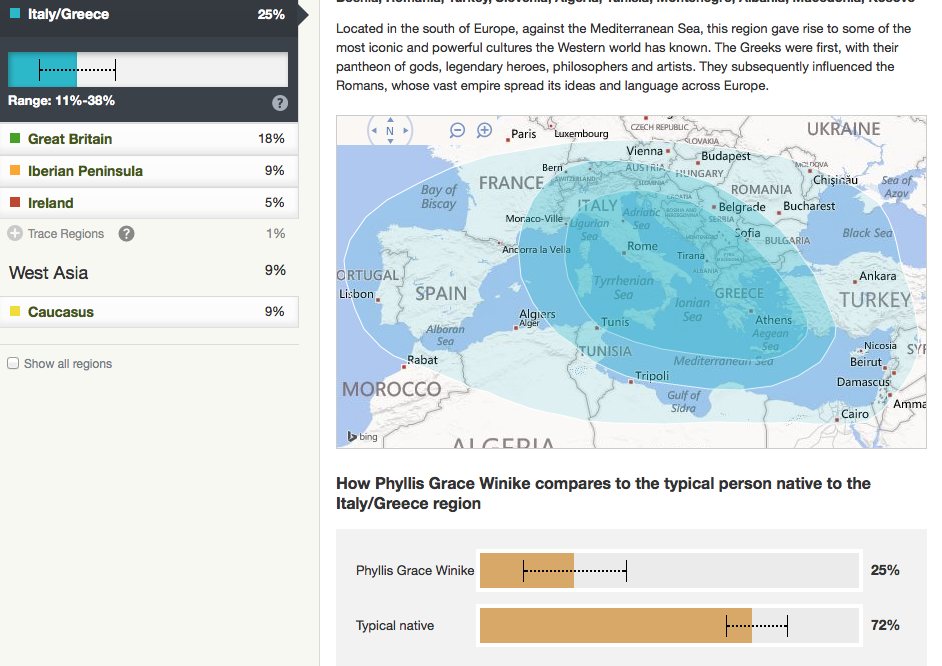 I keep saying this, but I've got to start digging into my father's lineage.  After seeing the results of my DNA breakdown I wonder if his ancestors were Scandinavian.  My father's mother was Grace M. Norder, born in Monroe Wisconsin. Grace's father Edwin C Norder (born in 1880) and Grace's mother Tilly (born in 1879) were born in Wisconsin. According to the 1910 census Edwin's parents were born in the U.S. but Tilly's father was born in Germany, her mother was born in New York.  My father's father was Frank Winike.  I know nothing about him or his ancestors.  Maybe they were born in the Scandinavian countries.
Along with my ethnicity chart came a very, very long list of 3rd, 4th, and distant cousin matches.  The research never ends…