by Phyllis Zeck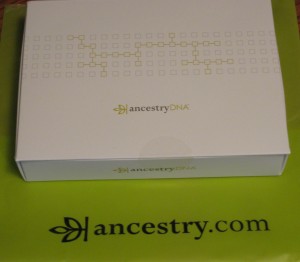 I finally took the plunge and joined the growing masses of genealogists who have had their DNA tested.  One of my goals at the RootsTech conference this year was to learn more about DNA testing.  I signed up for Saturday's lunch hosted by Ancestry.com.  It just so happened  that the topic was DNA.   The three different types of DNA testing were discussed.  Mitochondrial (mtDNA) is passed by mother to both male and female children.  yDNA is passed down the male line from father to son.  Autosomal (atDNA) is used to look for connections among family lines both maternal and paternal and will trace ethnic ancestry. My kit was $89.00 for an Autosomal kit and I saved $10.00 in shipping by purchasing it at the conference.  Click here to read a brief pdf guide about DNA.
My mother's grandparents on her father's side were born in Italy.  My mother's mother Bertha Marie Christina Reher was born in Hamburg, Germany in 1901. I don't know where her parents August Reher and Caroline were born.
My father's mother was Grace M Norder born in 1908 in Monroe, Wisconsin. Grace's father Edwin C Norder was born in Wisconsin in 1880. Grace's mother Tillie was born in 1881 (birthplace unknown).  I don't know anything about my father's father, Frank Winike.  He abandoned my grandmother and father when daddy was a little boy and I have been unable to locate him in any online record databases.  Wow, I just realized that I have a lot of research to do on dad's side of the family.
My Ancestry.com kit is an atDNA test so I expect a large chunk of my lineage will be from Southern Europe which includes Spain/Portugal and Italy/Greece. The instructions said the test was quick and easy to take.  No more swabbing the inside of your cheek.  I had to spit into a tube "up to the wavy line" (about 1/4 of a teaspoon).  It was obvious that the person who wrote the instructions was a young whipper snapper who was not on a ton of medications that leave your mouth dry!  This process did seem to prove very entertaining to my sister Lori, and after about 20 minutes of exhaustive spitting I had reached my goal.
Now I must wait patiently for 6 to 8 weeks to get the results of my test. Those of you who know me well know that this will be a challenge. Ancestry.com has 2.7 million subscribers and close to 300,000 members have taken the DNA test so far.  I think my chances are good that I will find some new cousin matches.