by Rob Winike
Introduction by Phyllis. I have recently begun corresponding with Andrew Del Principe. Andrew's grandfather was Serafino (John) Amideo Del Principe (1897-1972), my grandfather Gilbert's brother. Andrew's father is John Anthony, some of you know him affectionately as Bubbles. Bubbles has 9 children and 9 grandchildren. Bubble's given name on his birth certificate was John Anthony Sheehan. John was born at Walther Memorial Hospital in Chicago on 05 Feb 1942.  Click here to see his birth certificate, then click to enlarge it. 
John was indeed a lucky baby. His birth mother had to give him up for adoption because she was on public assistance and was unable to care for him. This little boy was so fortunate that John and Jeanette welcomed him into their home to join half-sisters Margie (born in 1919) and Leona (born in 1920).  


Check out the photo above. It looks like John Jr's parents dressed him in his best, snappiest suit. I can't tell what is pinned to his lapel, perhaps a flower. He is clutching his Rosary and what I assume is his Bible. Click here to view John Jr's Baptism record from Holy Trinity Church on 12 Apr 1942.  
Click here to view Bubbles school promotion record. He was 16 years old. If you click to enlarge and read the details you might assume, as I did, that Bubbles preferred to play hooky rather than attend school.  He was present 64 days, absent 36 days, and tardy 21 times. I don't know how his Uncles let Bubbles get away with that as mom told me that "The Uncles" watched her and my Auntie Phyllis like hawks! The document lists their home address at 2244 W Harrison St.  My brother Tom has many fond memories of Uncle John and his family. They lived on the 3rd floor and our grandfather Gilbert and our parents lived on the 2nd floor until we moved to Villa Park. Tom also remembers an empty lot next door where Bubbles used to park his huge 18-wheeler truck trailers. Across the alley from Gilbert and John were the apartments on Bell Ave where more relatives lived (of course).
Thank you Andrew for the wonderful photos and documents that you have shared with us. To read more about Sarafino (John) Del Principe's family please click his name in the Categories box on the right side of the website. Thank you to my brother Rob for the memories he has shared below.
---
My earliest memories of John, who lived in the same tenement as my family, were that he was a "care free spirit." He might have been a hippy in the Sixties like me and my brothers, but he was a whole generation ahead of us. When I was six, he was already starting high school I think. But I could be wrong. Time was slower then, and leaves bigger gaps between memories.
But I was lucky to talk to John a few years ago when I stumbled on his phone number, where he lived in Southern Illinois. We had several good phone talks and he related some stories about living in the old neighborhood that rounded up a lot of memories I thought I'd put out to pasture.
For one thing, John was nimble with hand tools. I first took note of that when I would watch him work with his Lionel Train set. He and his father, (Uncle John was my grandfather's Gilbert's older brother) crafted a train layout that could be raised on pulleys so it could be stored until ready to use. This was in Uncle John's workshop in the back of the Del Principe accordion store, a huge expanse of space that allowed for John Jr.'s immense train layout. I'd watch in wonder as he could operate three lines at once, controlling track and trains with electronic switches. I've no doubt that's where my love of model railroading came from. It helped that my father, Robert Thomas Winike, loved trains too – and I just bet they worked on his layout together, although I forgot to ask.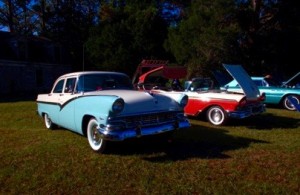 When I spoke with John on the phone he told me that he had great love and affection for my father, who was kind of like an older brother. What I didn't know was that my father would allow John to wash his new Ford after getting off work. My father and his best friend, George Russo (who was also my accordion teacher) owned matching 1957 Ford Fairlanes. John would drive my father's car around our block and park it in the garage behind the Harrison Street tenement. He'd set up a little car washing and detailing operation in there. Once my father's Fairlane was clean and sparkling, John would do the same with George's. Then he'd park them side-by-each in the cinder parking lot next door to our building, noses protruding over the sidewalk. John told me he remembered feeling proud when he'd got them both clean and gleaming, my father and George bragging about the job he'd done.
Another thing I remember about living Down East (what we called the old neighborhood after we'd moved out to the Western suburbs) was John owned and repaired Vespa motor scooters. Italian motor scooters were the rage in 1955 and 1956, thanks to movies that featured beatniks tooling around Europe on them. They were compact and portable, but still gave you the "wind-in-your-face" sensations even though you weren't going very fast. I got confident to jump off before he'd come to a stop – that felt daring! But mostly it was the freedom that suited him – he'd pull right up on the sidewalk in front of the accordion store with all the old Italians crabbing at him, then rev up the engine and peel out.
Compared to all the old-timers in our family's two tenements on Harrison Street and Bell Avenue, John Jr. was like a Marlon Brando, James Dean kind of young guy. Outspoken, rebellious, but a hard laborer. Many Sundays spent helping my grandfather and Uncle John building the "round house" which was going to be a retirement home in the country, I remember John Jr. on the roof hauling materials up a tall ladder. He and I dug drainage ditches out there, in some very rocky and hardscrabble ground. We complained but did the work. At lunchtime we'd all stop for homemade fried chicken, prepared by John's mom, Jeanette. Everyone laughed at my younger brother Steve, who they called "The Chicken Eater," because he ate so much. Those were good times but long forgotten until I talked to John about them again.