by Phyllis Zeck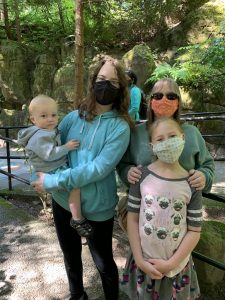 Week 17. Our three largest counties Clackamas, Washington, and Multnomah are in phase 1 of reopening. We may have to stay in phase 1 until we have a vaccine. As of July we have a new statewide mandate requiring everyone ages 5 and up to wear a face covering in outdoor public spaces when we can't physical distance. Coverings are required statewide for indoor public spaces. The good news is our hair salons are reopening along with some restaurants, stores and the ZOO! Ashley and I took some of my grandchildren to the zoo this week and it was fabulous. I felt like I won a get out of jail free card. 
In April my sister Holly busied herself making masks and she's been stitching ever since. She distributed the masks to hospitals and health care facilities. Soon family and friends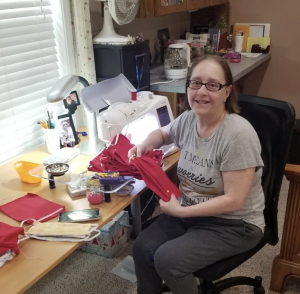 wanted to know how they could help. Holly set up a message board and posted what she was in need of which included thread, elastic, fabric and buttons. The donations poured in. Soon health care workers were requesting bands to hold masks in place and scrub caps. My son in law put his printer to work churning out straps. Generous donations of printer filament arrived at Ryan's house keeping his printer working 24/7. Click here to read an article about a mask shortage during the 1918 Spanish Flu in San Francisco.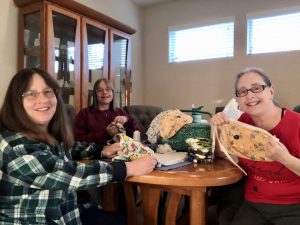 Lori and I wanted to know what we could do to help beside buying and delivering supplies. Holly immediatley vetoed any use of a sewing machine by either of us but we were allowed to sew buttons on scrub caps. Holly's supplies have been shipped from coast to coast, as far as away as Buffalo NY.  I'm so proud of my sister. She has a heart of gold.
What's happening in US? Crime and demonstrations have ruled downtown Portland for over 50 days. Federal officers converged at the court house and justice center to try to protect federal buildings from vandalism. There is constant unrest dealing with the covid pandemic, being told what we can not do by our local government, a lack of leadership from our federal government, discrimination issues and arguments as to whether or not we should remove 120 year old statues of civil war leaders from town squares. The mayor of Chicago removed a statue of Christopher Columbus (which honors Italian Americans living in Chicago) from Grant Park in the middle of the night. We have historic unemployment and demands that our police forces be de-funded.  
I'm sure that I'm on the wildest ride of my lifetime. I think about how brave my ancestors were to set off on a ship to America with just the basic of possessions and not much money. They survived the Spanish flu, the great depression, droughts, world wars as well as personal battle stories that we might never uncover. I know this time of unrest will pass, and we will survive, but life is challenging right now.