by Phyllis Zeck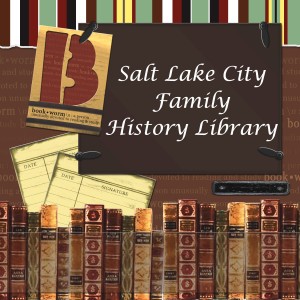 If you were following my posts on Facebook last month, you saw how excited I was about my research trip to Salt Lake City and the LDS Family Search Library.  Salt Lake City is a clean, beautiful city and the people are so friendly.  We stayed in a hotel across the street from Temple Square. Temple Square consists of many historic buildings.  Among them are the Tabernacle, the Family History Library, the Church History Museum, The Beehive House (built in 1853 and home to Brigham Young), the Assembly Hall built in 1882, and of course the majestic Salt Lake Temple, which was under construction from 1853 to 1893.   
We arrived at Salt Lake City in the early afternoon.  Lori and I headed over to the library to start our research.  The Family History Library has over two million rolls of microfilmed records.  Click on the link below to watch an interesting  video on You Tube explaining how the records are stored and shipped to libraries all over the world.  Granite Mountain Vault.
I had my "to do" list ready to go. One of the advantages of researching in the Family Search Library is having access to free databases that I don't have at home.  I only subscribe to Ancestry.com so I was anxious to see what I might uncover in the library's free databases. 
You will not believe it, but we found evidence of more children born to Elvira and Pietro!  Lori and I had only been searching for 15 minutes when Lori discovered a record for a daughter named Amedea.  This makes a total of 4 daughters born to Elivra and Pietro.  We also found records for 1 more son named Settimie.  This makes a total of 17 children.  
I've got to tell you, Lori was pretty excited!  I've updated the page of my website that lists the children of Elvira and Pietro so you can easily see the names and records of their children.  Click this link to view the records and click the back button to return to the blog.
Amedea was born about 1896.  She died on March 18, 1897.  If you click on her second death record source document from Family Search you will see that her death record was signed by her brother Joseph Del Principe.  A son named Settimie was born in Aug of 1897. 
Lori and I took a break for dinner and walked around Temple Square, then returned to the library for more searching.  Lori found at least 20 obituaries that I've never been able to obtain, she was using the free website called Proquest.  These records are packed with names and dates that may be helpful in my research.  
The next morning  we spent a few more hours researching before Don and Tim joined us. We wanted to  listen to the organist play the Temple's organ before leaving the city.  The organ is such an amazing and beautiful instrument; it has 11,623 pipes.  Finally it was time to head home with all my treasures, what a great visit to Salt Lake City!
I didn't know whether to be happy or sad with my new discoveries about Pietro and Elvira's babies. They lived such a short life.  How did we let over 100 years pass before we recorded their births and deaths?  We now have documentation that at least two of the babies are buried at Calvary Catholic Cemetery at 301 Chicago Ave in Evanston.  Where are the other babies buried? Another mystery waiting to be solved…