by Phyllis Zeck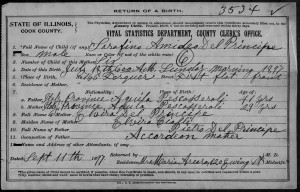 Sarafino (John) was born July 18, 1897 in Chicago, Illinois.  This is his birth certificate.  Click on the image to enlarge it.  Note that John was born in Elvira and Pietro's apartment at 165 Forquer in the first flat, front.  He was delivered by a midwife at 6 AM on a Sunday morning.   What a fantastic record to have!  Isn't it great when you can read the handwriting of the record keeper?  
John married Eva D'Asaro and they had two children; Margrette (Margie) Elvira born in 1919 and Leona born in 1920.  They divorced and John married Jeanette Martin who was divorced with two children;  Francis (Hobby) Johnson and Violet Johnson.  John and Jeanette adopted one child; John Anthony who was born in 1941.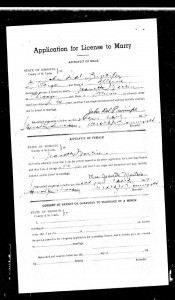 This is the marriage license for John age 44 and Jeanette age 40.   Click on the image to enlarge it.  The record is a bit fuzzy but it's interesting to note that John and Jeanette applied for a marriage license in St Louis, Missouri.  Perhaps that is where Jeanette was born and raised.  It makes me wonder how John and Jeanette met.  Also Jeanette signed the document "Mrs Jeanette Martin".  Her children's last names were Johnson.  I wonder if Martin was her maiden name.
Through this connection with Jeanette I have met (via email) Jeanette's great grandson John McCallion.  John's grandmother was Jeanette's daughter Violet Johnson.  Violet married John Messina. 
Violet and John had a daughter named Sandra.  Sandra married Tom McCallion and their son is John.
John has many happy memories of every Christmas spent at John and Jeanette's until he was a pre teen.  He remembers that John had many acres of land out in the "Country" which was Orland Park. 
My brother Tom remembers John and Jeanette fondly.  "John and Jeanette were always so kind to me.  I admired all my mother's uncles but Uncle John and Uncle Hank were among my favorites because they could do anything, just like my grandpa Gilbert".   Tom said, "Uncle John was a neighborhood hero in the old days.  He taught me carpentry when I was a kid.  We used to replace the boards in the huge wooden decks behind his apartment home.  John also had a wonderful house in the country called "Playfield".  He built his big house from scratch; and a bunch of cottages for his guests.  The weekend getaway from the inner city was awesome and magical.  John welcomed all of his nephews by name.  He was an incredible inspiration.  I miss him dearly."
Thank you to John and Tom for sharing your photos and memories.  New generations now have an opportunity to see how these two ancestors touched our lives.