by Phyllis Zeck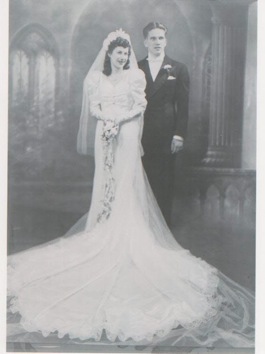 There is a saying in the genealogy world when we have searched and searched for an item or a family member and can't find what or who we are looking for; we have hit a brick wall.
This is what happened to me as I searched for any trace of Antonio Del Principe's descendants.  Antonio was the oldest of the Del Principe brothers.  I am now in contact with the descendants of Giuseppe, Amelio, Serafino (John), Octavio, Paulo, and Francesco.  I just had to find the descendants of Antonio!
In May of 2011 I went to Chicago to visit my family and friends.  In between activities (when I was supposed to be relaxing), I drove my sister Lori crazy by dragging box after box out of the basement and went through them in an effort to find some of my "missing" relatives.  I was particularly driven to find a descendant of Antonio's.  He had two daughters but I could find no trace of them.  My quest was to find Elvira and Eileen's married names.  I looked through grandpa's address books and through the obituaries grandpa had cut and saved.  I looked on the back of photographs for clues.  No luck!
Imagine my complete delight when one day in mid July I received an email from Mary, the granddaughter of Elvira!  Antonio had two daughters.  Elvira (Snookie) Antoinette was born in 1920 and Eileen (Turk) Lucille was born in 1921.  I thought Elvira had only one child but Mary informed me that Elvira and her husband Roy had four children: Margaret, Antoinette, Greg, and Madeleine.  Mary is the daughter of Greg.  Eileen married and had one son named Ron.
Mary and I have sent many emails flying back and forth and she has generously shared some stories and photos which I will share in future blog posts.  In the mean time, I hope you enjoy this beautiful photograph of Elvira and Roy Weber on their wedding day.