by Phyllis Zeck
Four words that can make you salivate: Chicago's Italian Beef Sandwiches!  No other beef sandwich comes close to the ones made by our family.
You bite into your sandwich and taste the tender beef, the sweet green peppers, and you hear the juice drip down on your plate.  You wrap the yellow crackling paper tighter around the sandwich so nothing else escapes.  You can't help it – a huge  smile spreads over your face.  You feel like you are in Heaven.  You finish your sandwich.  It's gone.  It's over.  How long until you can eat the next one?
The original Italian beef sandwich recipe spans three generations and was created in the 1940's by Margie (John's daughter) and Edith (Luke and Muriel's mother).
Margie and her husband Al Vitullo owned an ice cream store under the El tracks on Hoyne Ave and added the sandwich to the menu.  Their most popular beef stand was located at Cicero Ave and Kammerlig St.
And as they say – the rest is history!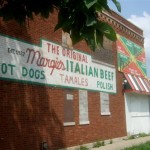 Frank Jr (Luke) began his restaurant in 1965 and now has restaurants in Tucson.  Luke is still working full time, he says he doesn't know what he'd do with himself if he retired.  Information about Luke's restaurants can be found at www.lukessandwiches.com.
Luke's two sons Joel and Cary operate branches in the Phoenix area and this is the link to their website http://www.lukesofchicago.com/.  Luke's son Matt owns a restaurant in Elkhorn WI.
Luke's sister Muriel and her husband Justin Fortuna opened their stand in 1976.  They have three restaurants, one on North Ave in Chicago, one in Harwood Heights, and one in Schiller Park.  Their website is www.jaysbeef.com .  The restaurants are named after Muriel and Justin's son Jay who now helps run them.   You'll find Muriel still putting in a full day's work behind the counter.