by Phyllis Zeck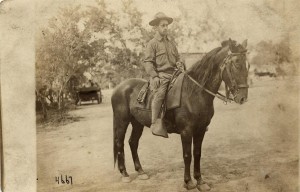 Giuseppe was the second son born to Pietro and Elvira on Oct 15, 1889 in Pescasseroli Italy.  He appears to be the only brother who entered the service.
Joe's military assignment was the Mexican Border Campaign.  "The Illinois National Guard was ordered into federal service by President Woodrow Wilson in 1916 to assist the Regular Army in restoring peace along the border between the United States and Mexico.
Between the fall of 1910 and the summer of 1916, Mexico had been embroiled in a violent revolution, with opposing political and military forces struggling for control of the country. In 1913, United States President William Howard Taft sent a large military force into Texas and stationed them along the Rio Grande to protect Americans in the region. This show of American military force caused Mexican militants to redirect their violence from their own countrymen to Americans. In 1913, when Woodrow Wilson became President, he denounced the new revolutionary government in Mexico and refused to recognize it as the legitimate government. As a result of his position, violence toward Americans intensified and there were incidents of murder, robbery, kidnapping for ransom and property destruction.
In response to the violence, President Wilson sent 4,800 Regular Army troops under General John "Blackjack" Pershing to defend the border towns and their citizens. On February 24, 1913, fighting commenced along the border near Brownsville, Texas and on March 2, Mexicans attacked U.S. troops along the border near Douglas, Arizona. The struggle for control continued throughout 1914. Mexico elected a new government and president, Venustiano Carranza, in 1915."
You can read the rest of the article about the Mexican Border Campaign at the following   website: http://www.il.ngb.army.mil/Museum/HistoricalEvents/MexicanB.aspx
Joe played the Saxophone with the 1st Illinois Cavalry  Band and is in the center of this photo.  Joeseph Jr has the original photo.  It is posted online at VintagePostcards.org with more details about the photo.
http://www.vintagepostcards.org/brownsville-illinois-cavalry-band-mexican-revolution-rppc-p-4293.html
Below is an image of Giuseppe's WWI draft registration card and his WWII draft registration card.