by Phyllis Zeck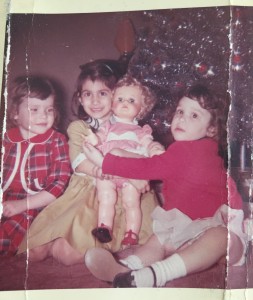 This picture was taken Christmas Day in 1961.  Second cousins Rosemary Heneghan, Sandy Del Principe, and Susan Heneghan were celebrating at their grandparents apartment, Bernie and Florence Del Principe. Bernie and Florence's home was on North Ave, across the street from the music store. The girls great parents were Amelio (Emil) Del Principe and Rose Solomon.  
My sister and I also received a doll like the one in Sandy's photo. Below is a photo of me and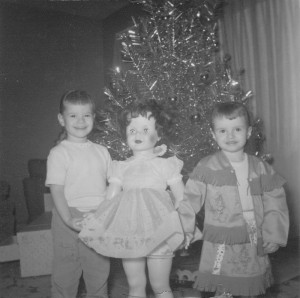 my sister Janice. Janice was born in 1958 so this photo was probably taken in 1960 or 1961. Looks like large dolls were at the top of little girls Christmas wish lists.
Thank you for sharing the photo Sandy.  As you gather with family this holiday season I hope you share photos and stories with the younger generations. I welcome any photos and stories you'd like me to post on our family website. Let's honor our ancestors by keeping their stories alive.  "There is no time like the present to save the past".  
Wishing everyone a warm holiday season filled with love and laughter, family and friends.