by Phyllis Zeck
Many of our ancestors graves will be found at Mount Carmel Cemetery in Hillside, Illinois.  My grandfather Gilbert is buried here.
Mount Carmel Cemetery is maintained by the Roman Catholic Archdiocese of Chicago.   In 1901 Mount Carmel Cemetery was consecrated.  The cemetery is currently 214 acres. There are over 226,275 people buried at Mount Carmel.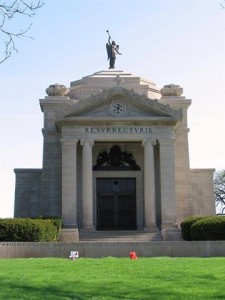 Mount Carmel is the site of the Bishops' Mausoleum where seven Bishops, Archbishops and auxiliary Bishops are entombed, including most recently, Joseph Cardinal Bernardin, who was entombed in 1996. Also on the cemetery grounds are the final resting places of a number of local organized crime figures such as Al Capone.  There are over 400 family mausoleums located on the cemetery grounds.