by Phyllis Zeck
Last May I took some time for a little fun and relaxation and flew to Chicago.  What a fantastic trip it was!  My only regret was that I was unable to meet my cousin Joe.  He was not able to make the trip to Chicago this year.   Lori and I did however get to meet Joe's sister Dolores and Dolores' daughter Gayle.  They happen to live in the same town that my sister lives in.  We met for lunch and shared stories about our families along with some photographs.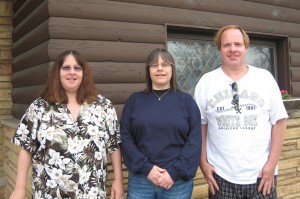 The first few days of vacation were spent catching up with my sister Lori and my brother Tony as well as with Sue, one of my best friends from high school.   In between visits, lunches and errands I began dragging boxes up from Lori's basement to see what I could uncover to help me with my genealogy search.  These were the boxes I was itching to dig into!  There were a couple of small boxes that held some items from my grandfather Gilbert and my mother.  One box had grandpa's glasses and glass case which he always had in his left shirt pocket.  The box had his address book and many Mass cards from friends and relatives.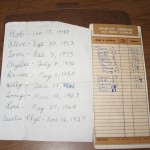 The pages of grandpa's tiny address book were frayed and had to be turned gently.  Grandpa had penciled in the birthdays of all 13 of his grandchildren in the back of the book.  He also had written in the married names of his brother Paul's daughters Toni and Paulette.  Bingo!  I had been searching for Toni and her twin sister Paulette for a year but I didn't know their married names.  Lori and I called Toni and Paulette right then and there and boy was it great to finally speak to them.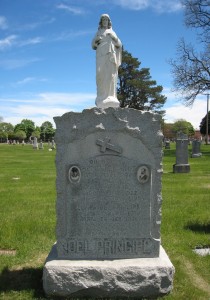 One day Lori and I took a trip to Mount Carmel Catholic Cemetery and the Queen of Heaven Mausoleum in Hillside.  The first section we stopped at was the gravesite of our great grandparents Pietro and Elvira.  Buried nearby is their son Anthony, their son Paul and Paul's daughter Dorothy, their son Gilbert (our grandfather) and Gilbert's wife Bertha.
We drove to another section of the cemetery to see our parents graves, Robert and Corinne Winike.  Also buried in this section are Grandpa's brother's Hank, Otto and Frank and Frank's wife Edith, as well as Muriel's husband Justin.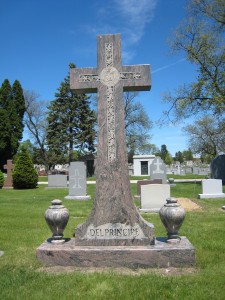 After lunch we went to the Queen of Heaven Mausoleum.  Grandpa's brother John and his wife Jeanette are buried here.  It was dark and quiet inside and we walked through all the floors admiring the glorious stained glass windows.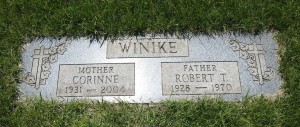 xxx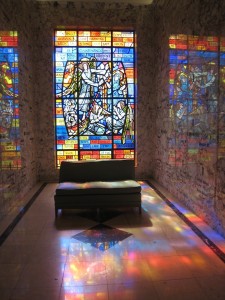 xx
xx
xx
x
x
x
x
Our last stop of the day was to drive by the home where our family lived from 1956 to 1996.   I can not believe how many people lived in that tiny home: mom and dad, eight kids, grandpa, plus daddy's mother & father who lived in an apartment on the second floor.  How different it looked!  I took some snap shots and how I want to "photo shop" out the huge trees that now hide the house & garage and remove the city side walk next to Villa Ave.  Those things weren't there when I was a child.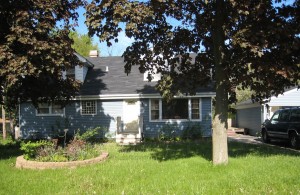 I want to add in grandpa's rose bushes and his garden with his tomato plants.  The swing set and swimming pool were missing from the back yard and the slip & slide wasn't rolled out on the front lawn.  Where were all the bikes that were normally left in the driveway? Lori and I drove away feeling melancholy; I was lost in my childhood memories.
Since we needed a Pick-Me-Up we decided the next day to drive out to Jay's Beef in Schiller Park to visit with Muriel.  Ah, I would finally be able to sink my teeth into one of our families famous beef sandwiches.  What fun we had with Muriel!  We spent the morning talking and eating; a favorite pastime of all Italians.
Another day Lori and I took the train downtown.  We went to the Chicago History Museum.  There were so many great exhibits and of course we were the last two visitors to leave as the employees tried to lock up and go home.  We caught a cab ride back to the train station and were treated to a ride along Lake Shore Drive and through the Magnificent Mile shopping district.
I have to say one of my favorite days of the trip was the day Lori and I went to meet our newly discovered Ciolli cousins.  We had lunch at Allen & Marie's house and Vickie joined us for the day.  But I'm afraid this is a topic that will need to be written another time, stay tuned for part 2…