by Rob Winike
Submitted by my brother, Rob Winike.
I am the accordion player shown in the wonderful blog post from Oct 2010, the artist formerly known as "Bobby Boy." My first performance lessons were when I turned four, at Uncle Otto's store on Cicero Ave. My teacher was George Russo, who was also a great friend of my father, Robert Thomas Winike. They both owned new 1956 Ford Fairlane Victorias, two-tone. My cousin John "Bubbles" (Dean's dad) told me last year that he used to covet the chance to drive those cars around the block so he could wash them back in the alley between our families' two tenements, one on Harrison Street and one on Bell Avenue. Dad and George would proudly park their Fords at the front of the cinder lot on Harrison so the public and all could see and enjoy!
When I was talented enough, my Grandfather, Gilbert Del Principe used to take me to the neighborhood tavern, the Four Deuces, where I would play songs and patrons would throw quarters at me. These I promptly plunked into a colorful Seeburg Jukebox and play top hits of the 1950s. I loved taking lessons at Uncle Otto's store because if I played well, he would let me choose two 45 rpm records as a reward, and usually Grandpa would buy me two more. My record collection was the best in the old neighborhood by far, varied and popular with cousins and friends alike. 
I hated having to practice everyday after school, but dared not incur the wrath of my teacher, by wasting his valuable time and "make a monkey of me," as George would say. If my hand went limp on the treble keyboard, he'd slap it sharply. "Practice don't make perfect," he'd say. "Perfect practice makes perfect!" This he'd say in a small acoustic practice room rank with humidity and clouded in thick cigar smoke, as was Uncle John's whole store, which ran in streaks of grey and brown from constant cigar smoking and full trays of stale cigar butts on every desk in the back.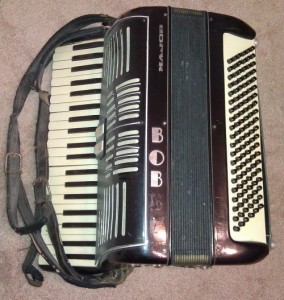 The climax of my accordion apprenticing came in 1958, when I won a regional contest and was scheduled to audition for the Ted Mack Music Show, playing a blistering rendition of John Phillip Susa's march, "Under the Double Eagle." Two weeks before the audition I caught the Asian Flu, as did all my cousins and half the kids at my school, Saint Callistus Elementary School. Both our tenement buildings were quarantined, and my big chance for accordion fame and national acclaim was sadly lost. But I was still inclined to play at a large number of Italian weddings, First Communion parties, and St. Joseph Day Progressive Dinners in various homes of parish families. Polkas were popular, but classic Italian songs were always requested. Some of the crowd favorites were, of course, the Tarentella; Al di La or Domani both popular songs then by Julius LaRosa; and always, Oh Marie, Oh Sole Mio, or Santa Lucia. 
I greatly regret now not having developed my talent like some of the cousins of my late mother, Corrine Del Principe, and my Aunt Phyllis. I continued to play after our family moved to Villa Park, but finally gave it up after entering junior high. I was convinced no seventh grade girl was ever going to go out on a date with a guy who played the accordion, especially one with the inglorious name of "Bobby." I changed my name to "Bob" and put the accordion aside. Last year I bought a used accordion made by Enrico Roselli and started taking weekly lessons again. I'm now practicing the same songs I played so well nearly 60 years ago! My goal is to get good enough to purchase a Del Principe accordion and post a photo of "Bobby Boy" playing with the same fire I once had, as all things accordion eventually run their course. As an historical footnote, I still have the original accordion made by Pietro shown in the blog written by Phyllis, although it is much worse for wear. I have it encased in plastic and hope to one day have it restored and displayed in a glass case. A lot of family memories and musical legends will reside in that case!