by Phyllis Zeck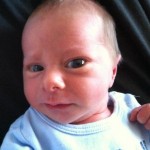 Tyler Michael was born last month.  Tyler's father is Robin Tyler (my nephew) and his mother is Karli.
Tyler's great great great grandparents were Pietro Giovanni Del Principe and Elvira Ciolli.  They immigrated to the United States in the late 1890's from Pescasseroli Italy and settled in Chicago.
Family members anxiously awaited the birth of Tyler this year.  We couldn't wait to meet the little guy and shower him with love. 
Click below to listen to Robin's sister Lindsay sing "The Five Pennies" lullaby to her new nephew.