by Phyllis Zeck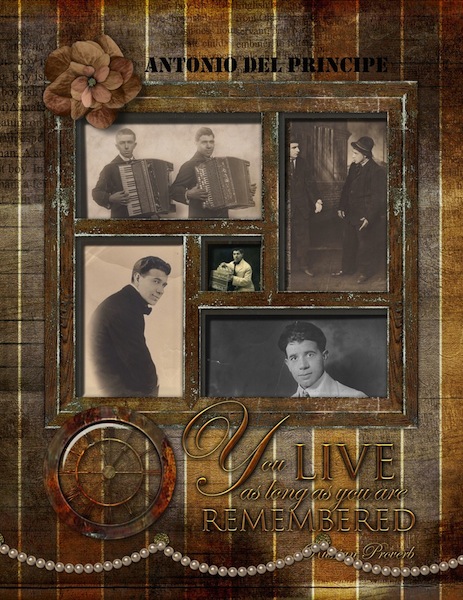 Antonio Del Principe was the first child born to Elivra Ciolli and Pietro Del Principe.  He was born in Pescasseroli, Italy and arrived in the United States on the ship The Weser when he was 4 years old.   
Tony married Margaret Heenan and they had two daughters; Elvira and Eileen. Elvira's granddaughter Mary (aka Bear) sent the wonderful photos displayed above. Tony is the gentleman on the right in both of the partner photos.  Tony had promotion photographs taken.  The photo of Tony in a hat was taken by "Swisher" at 32 N State St in Chicago.  The photograph taken with him playing the accordion was taken by "C-I-Hak" at 323 W. Clark St in Chicago.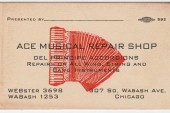 Tony spent much of his time traveling and performing.  This is one of the business cards that he carried.   Bear sent me an absolute treasure which I want to share.  I received an original brochure that her great grandfather handed out promoting his sales and entertainment services. My Aunt Phyllis always told me that Antonio went by the name of Tony Prince.  As you can see by the brochure below, she was correct.  Tony passed away in 1941 so the brochure is at least 71 years old.  You can click on the business card to enlarge it.  Click here to see page 1 of the brochure and to read the lyrics to the songs, click here to see page 2.  Thank you for sharing Bear!