by Phyllis Zeck
My father-in-law was known to all as "Colonel".  He was an amazing man. People respected and admired him.  He was born 04 Oct 1921 and passed away 06 May 2007. Harry received his bachelors degree from the University of Illinois.  He entered the US Army in 1943 as a Sergeant and retired in 1974 as a Colonel from the US Air Force. In his 30 year carrier with the military Harry served during World War II, Korea, and Vietnam. The photo to the left was taken on the island of Espiritu Santo (east of Australia).  Harry said that the navy dropped them off on the island with rations of orange marmalade and spam. Harry had one brother named Raymond. Ray was a radar mechanic for the 747th bomb squad.  His "battles and campaigns" include:  S. France, N. France, Rhineland, Central Europe, air offensive Europe and air combat Balkans.
The photo on the right is of my father-in-law.  From 1966-1968 he was stationed in Taiwan as a military advisor to the Taiwan Air Force. Last week I decided to go through some genealogy notes my mother and Aunt Agnes (Raymond's wife) passed down to the Zeck family.
Here's a little family tree background: Harry's mother was Florence Margaret Huff.  She was born 17 Jul 1893 in Girard, Illinois and died 25 Dec 1983 in Universal City, Texas. Harry's father was Herman (Harry) Karl (Charles) Zech (Zeck).  He was born 29 Jun 1890 in Danzig, Poland and died 16 Sep 1983 in Chicago Illinois.  Harry Sr changed the spelling of the family name from Zech to Zeck.  It is not known if he also shortened it.  Harry Sr's family immigrated from Poland to Sandusky, Ohio. Harry Sr was a manager for U.S. Sample Company.  I remember my father-in-law telling me that during the depression Harry Sr would bring home fabric samples and Florence would make slacks and suits for Ray and Harry Jr.  Harry Sr invented and patented a machine to glue and attach fabric samples on card stock for the fabric salesmen to use in the field.
Documents that my mother in law saved show that Harry's grandparents on his father's side were named Carl August Zech (1857-1930) and Julianna Dombrowski (1857-1942).  Carl's parents were David Zech and Christine Lenfer. Harry's grandparents on his mother Florence's side were Alice Wheeler (1872-1963) and Albert Huff (1865-1939). Florence and Albert had 6 children: Edward, May, Florence, William, George and Marcella.  Albert was a policeman for the city of Chicago.  Click here to see a record of funeral costs and an obituary for Albert Huff.  Albert's obituary states: "Albert Huff, 76 years old, a retired policeman, died yesterday in Blaine Ramsay hospital.  Huff saw service at the Iroquois fire, the stockyards fire of 1910, and the Eastland Disaster.  He lived at 1330 South Pulaski Road.  Surviving are his widow, Alice, three daughters, Mrs Florence Zeck, Mae, and Marcella, and three sons, William, Edward, and George.  Funeral services will be held Thursday at 9:15 am in the chapel at 4817 Madison Street, with burial in All Saints' Cemetery."
The Iroquois Theatre Fire occurred on December 30, 1903, in Chicago, Illinois.  "It is the deadliest theater fire and the deadliest single-building fire in United States history. A total of 602 people died as a result of the fire."  Click here to read about the fire in an article posted at the Chicago Tribune.  The stockyards fire of 1910 "stood as the single greatest loss of professional big-city firefighters in U.S. history until Sept. 11, 2001."  Click here to read more about this tragedy from the Chicago Tribune.
In the Eastland disaster of 1915 844 employees and family of Western Electric Co. drown in an accident on the Chicago River. Click here for a link to the disaster from the Chicago Tribune.  My father-in-law's grandfather was a huge part of Chicago's history at the turn of the century.  Harry was born in 1921, he was 18 years old when his grandfather died.  I wonder if he asked his grandfather about his experiences on the police force.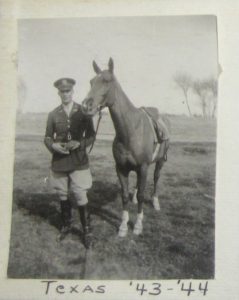 During his career Harry served at Guadacanal, Okinawa, Korea, Japan, and Taiwan.  State side he was stationed in Illinois, Michigan, Alabama, Oregon, Washington DC, and Texas. In the photo on the left Harry is pictured with his horse named Kit. He was a Second Lieutenant with the US Army (which became the Army/Air Corp. and then became the US Air Force). Harry quickly rose in rank, in 1945 he was promoted to First Lieutenant Captain Major in the Air National Guard. In 1951 he was promoted to Major, in 1953 promoted again to Lieutenant Colonel. From 1954-1956 he was stationed in Korea and Japan as Director of Personnel. From 1957-1962 the family were living in Washington DC, Harry was at the Pentagon in charge of Airman Procurement. He was then assigned to the University of Portland in Oregon as their Professor of Aerospace.  Upon returning from Taiwan as a military advisor (1966-1968) Harry was promoted to Colonel and was stationed in San Antonio, Texas.  Harry retired from the Air Force in 1974.
Harry and Yvonne have two sons; Frances Harry and Donald Arthur.  They are grandparents to Don, Heidi, Ashley, John and Brian.  They are great grandparents to Kayla, Nathan, Tyler, Samantha and Abigail. Harry and Yvonne passed away within two months of each other in 2007.  I miss them every single day.  
A week after my father-in-law passed away I was at Glenwood retirement center visiting my mother-in-law.  A nurse's aid stopped me in the hall and said she had something she wanted me to hear.  She pulled out her phone and I listened to a recording of the Colonel sing "Oh, how I hate to get up in the Morning".   She said "Harry had two songs that he liked to sing in the shower in the the morning and I recorded them both".  I told her that I was so grateful to her for making these recordings, now Harry's descendants will forever be able to hear his voice.  What a wonderful act of kindness.  Click the following link to hear the Colonel singing:  Col Zeck Singing The Bugler Song 2007.
Harry and Yvonne are buried at Willamette National Cemetery in Portland Oregon.  Our daughter Heidi is a corrections officer and honor guard for Multnomah County.  Heidi presented a flag to her father Don and to her uncle Frank at their parents memorial service.  Frank suggested that Harry and Yvonne's headstone should be engraved "Parents and Patriots".  Two words that describe Harry and Yvonne perfectly.