by Phyllis Zeck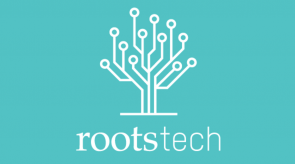 Yep, that's right.  I traveled to Salt Lake City and attended my first genealogy conference.  RootsTech has been on my bucket list for 3 years and it did not disappoint.  My sisters, Lori and Holly, teased me about my 27 page excel spreadsheet of classes (printed on legal paper) that I kept sifting through in the weeks before my trip. All the hours I spent color coding and sorting over 225 class options paid off.  I allotted myself 4 one hour classes each day.  Classes highlighted in blue were my first choice, classes in green were my back up classes, and classes highlighted in gray were backups of my backups. In between classes I was able to stroll through more than 130 vendor and exhibitor booths.
Remembering our ancestors was on everyone's mind here.  What a joy that all my new friends actually wanted to talk about their research and ancestors.  No ones eyes glazed over as the discussions went on and on about the best way to share family history or as we debated the best online research products.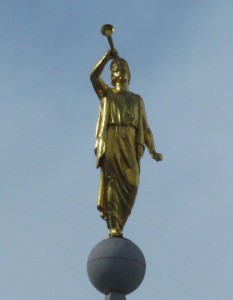 I took some time to be a tourist. I had lunch at the restaurant at the top of the Joseph Smith Memorial building.  I even had a few hours to explore some of the floors of the LDS Family History Library and to do a little research.
The first day, Wednesday, was the innovator & developer summit.  We got a chance to scope out the convention center and find our way around and sit in on some of the lectures.  Each day started with a one hour general session with keynote speakers.  My favorites were Dr Spencer Wells, a National Geographic Explorer in Residence.  He gave an fascinating lecture about his genetic project.  Todd Hansen spoke about his TV series called The Story Trek on BYU TV.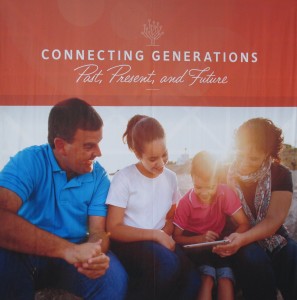 Judy Russell stressed the importance of accurately recording and preserving family stories saying that oral family history can be lost in three generations and that we should document and pass on our stories to the generations that come after us. 
Thursday nights opening social featured Vocal Point, a Capella group which we enjoyed immensely.  Saturday was youth day.  I was impressed to see so many pre teens and teenagers attending classes and touring the exhibits.  There was a rousing game played on the stage in the ballroom as teen agers swapped turns on the stage.  
The classes that I attended centered around research and writing techniques, new services to help with my research, and ways to share my family history discoveries.  Lori thought I should sit on "Publish Before You Perish".  I think she may have been making fun of me…
I've been anxious to start digging into newspapers to look for family stories so I took a class given by Newspapers.com and will subscribe to their database.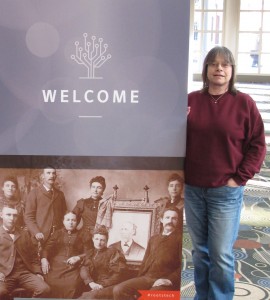 I attended a class given by Crista Cowan about researching records.  Crista has worked at Ancestry.com for the last 10 years.  She has the best job! Crista has some wonderful learning videos that will help you maneuver around the Ancestry website. On Saturday I went to a lunch hosted by Ancestry.com.  A panel of their experts spoke about Ancestry's DNA project.  In fact DNA was a large part of RootsTech, a topic that has been on my mind for some time.  I attended a lecture titled "Begging For Spit" (no joke).  Watch out cousins, I'm coming for you!
So here I sit, typing my blog post at the airport.  My plane has been delayed headed back to Portland.  I will return tonight to 7 inches of snow, capped with a layer of ice. I do not want to lug my suitcase up my hill.  I hope that next year RootsTech is held in the spring!