by Phyllis Zeck
I was amazed to discover that my 2nd great grandfather Charles (Carl) Frey III volunteered for the Civil War.  Click here for my blog post.  Carl was my paternal 2nd great grandfather.  Click here Frey Hourglass Chart to see highlighted names of my lineage through my father, Robert Winike. Charles enlisted into Company 2nd Battery Wisconsin Light Artillery. Charles left the service as a Corporal.
I decided to write to the Wisconsin Veterans Museum Foundation to see if I could have access to any of his military records.  Laura was very helpful and provided me with information of how to obtain Charles' Certificate of Service and his Muster & Descriptive Roll. Laura confirmed that Charles (Carl) enlisted on 14 Dec 1861 in Monroe, Wisconsin for a three year term.  Then on 07 Dec 1863 he reenlisted at Fort Monroe in Hampton, VA.  This fort is 30 miles north of Norfolk, VA.  My sister Lori and I vacationed in Norfolk a few years ago.  If I had only started my research earlier we could have visited Fort Monroe!  
Laura explained that enlistment & discharge and mustering in & out are slightly different.  Enlistment means the day the soldier signed up, discharge is the day they were honorable separated from the military.  Mustered in means the date they were assigned a regiment and unit, mustered out means the date they were released from service.  You can read the entries for Charles Descriptive Roll (line 63) by clicking here for page1 Frey Charles and clicking here for page 2 Frey Charles.   
In Laura's email she told me she was mailing me Charles' Certificate Of Service.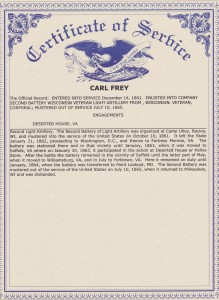 You all know by now that when I find out genealogy information is "in the mail" I am terrible at waiting patiently for the envelope to arrive!  Click on the image to the right to enlarge it.  This document states that Charles (Carl) mustered into service on 10 Oct 1861.  They left Wisconsin 21 Jan 1862 proceeding to Washington DC and Fort Monroe in Virginia.  In January 1863 they were moved to Suffolk, Virginia.  The unit was later moved to Williamsburg, VA and in July to Yorktown, VA.  I wish I had know this information when my family visited Williamsburg and Yorktown.  Why does this keep happening to me?!
Charles' company saw action on 30 Jan 1863 at Deserted House or Kelly's Store. Neither the Confederate nor the Union soldiers declared victory at this battle.  There were more Union deaths and injuries but the Confederates withdrew from the battlefield.  Deaths totaled 22 Union and 8 Confederate soldiers however Suffolk remained in the Union hands.
This magnificent map is the property of Baylor University. The image is reprinted with permission from the War of the Rebellion Atlas digital collection. It was produced by the US Government.  You can click on the image to enlarge it.