by Phyllis Zeck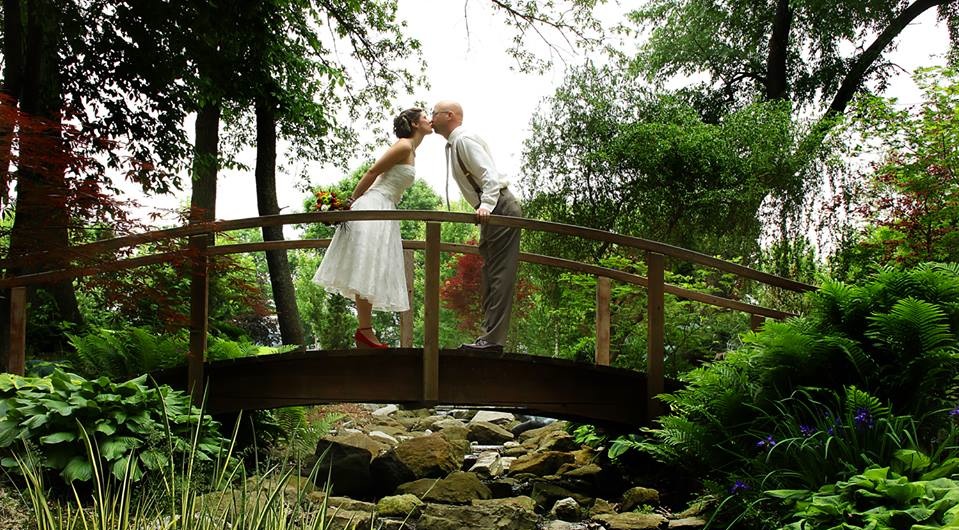 Wedding bells were ringing on June 1st!  Kelly and Don Jr were married in Kelly's hometown in Iowa.  I  few into Chicago a few days before the wedding to attend the festivities and enjoy the excitement.  Kelly looked gorgeous, Don Jr was very handsome, and Tyler was perfect as his father's best man.  
I couldn't leave Chicago without touching base with family and friends.  We crossed over the Mississippi bright and early on Sunday morning and headed to Lake Villa.  I was going to visit Antonio's cottage and meet some of his descendants.  I've discussed in many previous blogs my joy at communicating with Antonio's great granddaughter Mary (aka Bear).  Bear stumbled upon my website in July of 2012 and we've been email buddies ever scince.  Bear shares my passion for genealogy and has emailed me many wonderful letters, photos, and stories which I've shared in my blog posts.  
 This photo was taken in 1940.  Far left is Roy & Elvira (Snook) and Eileen (Turk) with friends.  

                      

Three brothers?  July 1937.  My grandfather Gilbert is in the middle.                                                                                          

 Elvira's son Greg, Greg's son Cory, Greg's daughter Bear, Me, and Greg's wife Terri.
As I pulled into the driveway of the cottage I could see it didn't look much different from the photos of 1940.  The cottage blends right into the woodsy environment as it's surrounded by many beautiful tall trees.  Antonio was the first child born to Elvira and Pietro Del Principe and was 1of 17 children.  Antonio and Margaret had two daughters.  Elvira Antoinette (Snooks) and Eileen Lucille (Turk).  Elvira married Roy and they had four children;  Antoinette, Greg, Madeleine, and Margaret.  Greg and his wife Terri have two children; Mary (Bear) and Cory.  To read other blog posts about Antonio's family go to the navigation bar on the right, scroll down to "categories" and click on "Antonio".  To see additional photos of Antonio's family click on this link.
What a joy it was to meet this family!  Bear's husband Wyatt was also on hand as we were given a tour of the cottage, then settled down near the cozy pellet stove for a lively and animated visit.  We all had so much we wanted to share with each other.  Just think of how happy Antonio and his brother Gilbert (my grandfather) would have been to see their descendants meet here for the first time.  Greg said that Antonio's brothers helped build the cottage and I'm sure my grandfather was there working along side of his brothers.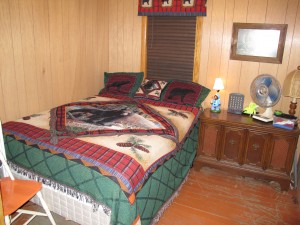 Three bedrooms lined the side of the house, off of the living room.  The bed in middle room had a quilt and pillow covers of a full moon, trees, wolves, deer, and bears.  The photo on the left was the bedroom off of the kitchen.  Bedspread, lamps, and window coverings featured a bear motif.  I suspect that Bear had a hand in decorating this room.  The kitchen and bathroom are additions to the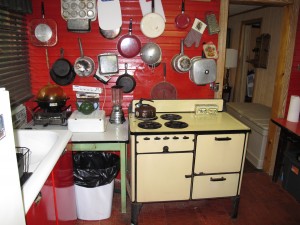 cottage.  The original siding was left in place and now pots, pans, and cooking utensils hang from the siding.  Before we knew it the afternoon had flown by. We ordered pizza for dinner and then took a stroll down to Miltmore Lake. Greg smiled as he told us how his dad used to drive him down to the community water pump so they could fill the water buckets.  He said his grandfather Antonio did not want lake front property.  He was afraid his little daughters might fall in the lake so he bought a lot one block away.
The photos below left were given to me by Bear.  We snapped photos of us in the same locations. Love this! 
 
 Elvira and Roy
 Bear (Elvira's
granddaughter) and me
 
 Elvira, Eileen, and Roy
 Bear (with Oso bear)
and me
The sun was setting.  It was time to call it a day.  We said goodbye to these good people and thanked them for a wonderful visit.  I'm so lucky that Bear found our family website and that we had this opportunity to met.  
I had one more day left in Chicago so of course I squeezed in three more activities!  We wanted to visit with my brother Tony and my nephew Robert.   We decided to meet at Jay's Beef so we could eat one of our families famous beef sandwiches.  Cousin Muriel dropped in to say hello and we all had a great extended visit. A wonderful way to end a perfect day.  Another terrific vacation had come to a close.