by Phyllis Zeck
In September I collaborated with three of my Ciolli cousins to dig further back into the archives of our family history.  The information below is the result of the research conducted by Kathy from GenTracer.  I will scan the documents and add them to the blog as time permits.  Please click on the tab above titled "Del Principe & Ciolli Family Tree" to see more family tree charts like the one below.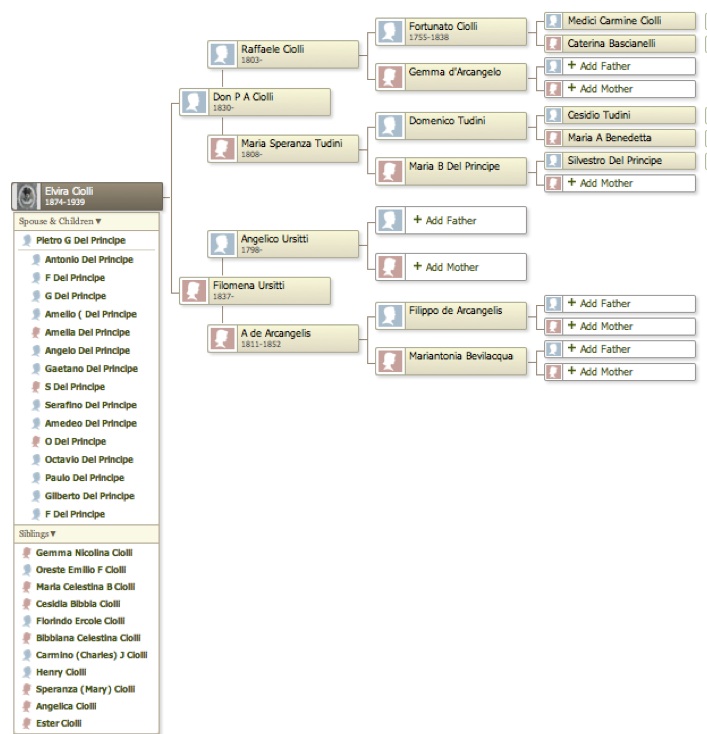 During this research project Kathy discovered that the 1854 marriage record has the title "Don" before the name of my great great grandfather Pietrantonio Amabile Ciolli.  I asked Kathy about this and she said "Don is a title, as is Donna.  It is usually applied to landowners and is the top of the social strata in a town, topped only by a title (Baron, Duke, Prince, etc)".  Also, the 1828 marriage records of Raffaele Ciolli states that Raffaele's grandfather was named Medici (Dr.) Carmine Ciolli.  Now a new question arises about the photograph from my blog on Jan 22, 2011.  There is a sign hanging on a building leading to the Ciolli home that says "Dott (Dr.) Ciolli.  Does this sign refer to Dr. Carmine Ciolli or to Don Pietrantonio Amabile Ciolli? 
Documentation from GenTracer:
The goal of the Zeck #4 research project was to comb through the civil registration records of Pescasseroli, L'Aquila in order to extend the client's ancestral lines. Emphasis was to be placed on the Ciolli family.
The project began with the birth, marriage and death records of Pescasseroli for 1828-1833 (FHL #1360877). They included #33, the birth of Pietrantonio Ciolli, filed on 4 May 1830. The birth was reported by a midwife (Innocenza di Nella). The male child was born to Speranza Tudini, 21 years old and a property owner living in Pescasseroli and Raffaele Ciolli, 23 years old and a property owner living in Pescasseroli on 4 May in their home. The right column shows that he was baptized on 4 May in the parish of Pescasseroli. Source #1 (more…)